Africa 2011


Where to start? I guess this trip began when our hunt with Neil Duckworth ended in September of 2010. Immediately after our return I contacted Martin Pieters about a leopard and buffalo hunt in the Omay area of Zimbabwe for early season 2011. A couple of quick emails and we were set with the exception of a few details. My only stipulation was that Shaun Buffee would be our PH. I shared a camp with Shaun in 2009 and spent time with him in Dallas in 2010. To say Shaun enjoys hunting leopard is a colossal understatement. It was his enthusiasm that convinced me to hunt leopard.
Shaun, Katherine, and I hammered out the details at the 2011 DSC convention. We decided to fly in to Victoria Falls and spend a couple of days sightseeing and then charter to the Chifudze camp in the Omay south area. We would then hunt leopard, buffalo, and possibly a kudu for fifteen days. After that we would drive back to Bulawayo and spend a couple of days with Martin and his family.
Our first small problem was I knew nothing about Victoria Falls. After a couple of PMs, emails, and phone calls with JudgeG (from Accurate Reloading forum) I knew enough to start a tour service at the Falls. His advice was invaluable. We used the services of Russell Caldecott as recommended by the Judge.
Shawn at Gracy Travel handled the airline tickets, SAPs gun permits, and booking Africa Sky for our overnight stay in Joberg.
As per Shaun's recommendation I brought a 300 Winchester Magnum for leopard loaded with 180 grain Partitions. As always my 470 Krieghoff double loaded with Cutting Edge Solids and North Fork Cup Points and my CZ 550 375 H&H with North Fork softs along with Cutting Edge solids made the trip. We also brought the 7 by 57 for Kudu. Three animals to be hunted and four rifles, we were well armed.
We left the day before Easter and the Delta flight was not full. We had an empty seat in our row and it was nice to have the extra room. The trip was uneventful and the luggage arrived. Africa Sky was nice as it was our previous stays. We visited with a hunter that was returning from a leopard hunt on Cawston with Shaun.
Upon arrival at Victoria Falls, Russell's man Zwe met us at the airport. We stayed at the Victoria Falls Hotel and over the next two days did the normal tourist things. We walked along the Falls, had lunch at the Safari Lodge, took the helicopter flight over the Falls, and of course enjoyed the "Booze Cruise" one evening. I have to admit that JudgeG is famous in Victoria Falls, the mere mention of his name brings instant respect. There is even a goat named after him. Zwe was a pleasure to be with and he took good care of us.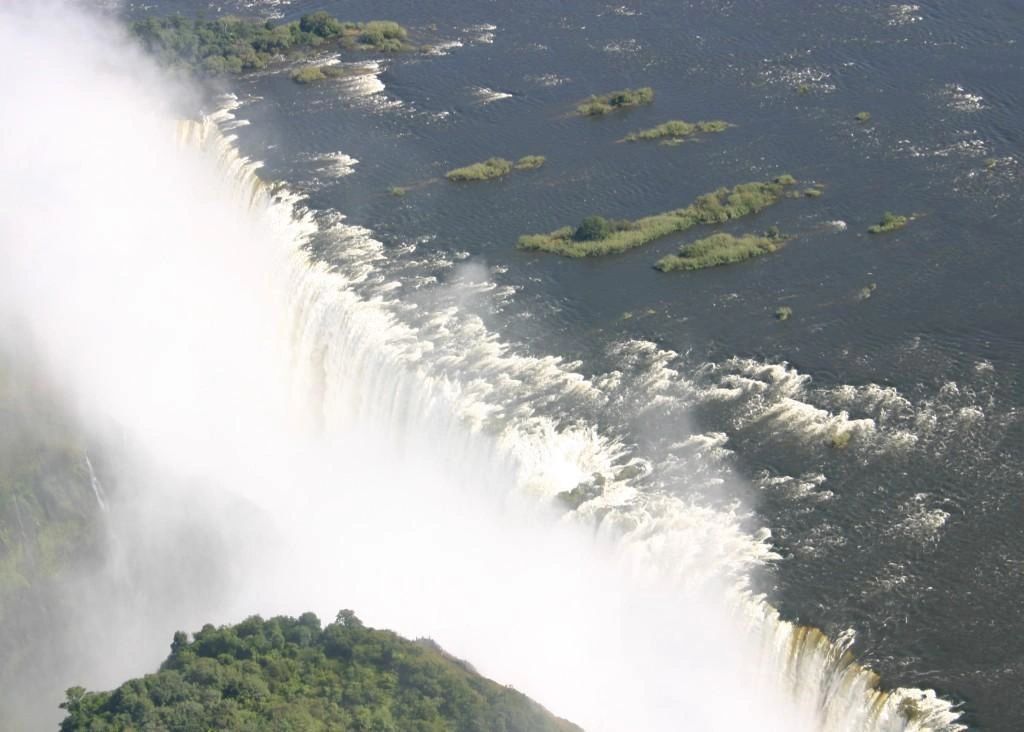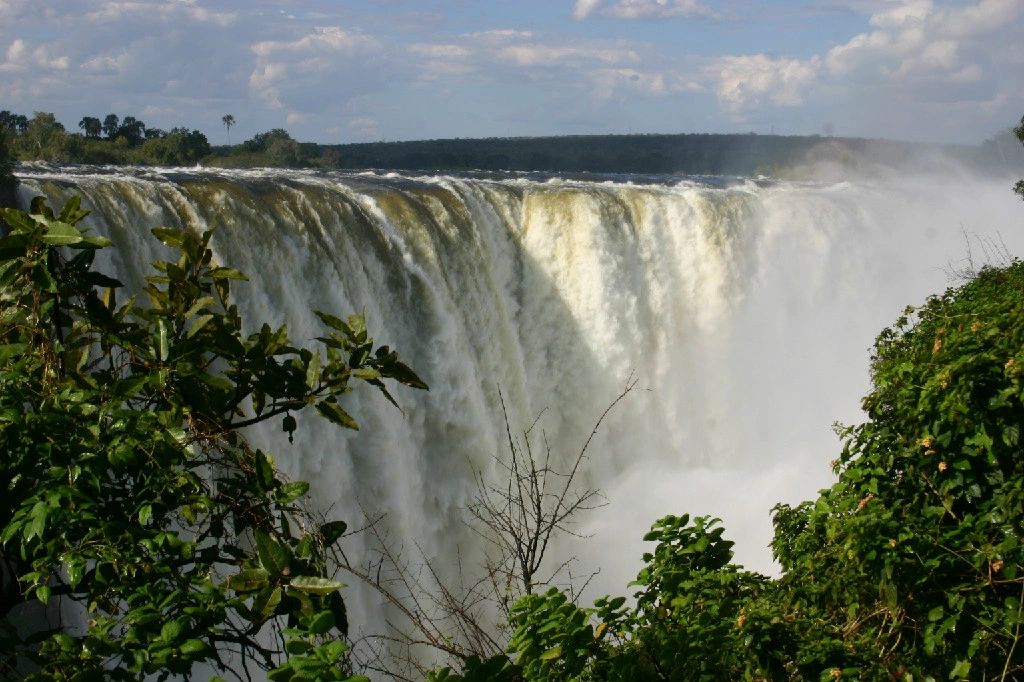 On Wednesday we bid farewell to Zwe and Victoria Falls and boarded a 210 bound for Omay South. Shaun and his tracker Bhekkie met us at the airstrip and we then drove to camp. That afternoon we sighted in the rifles and drove a small area checking for buffalo tracks. Our plans were to shoot a buffalo as quick as possible for leopard bait and start hunting leopard.
Thursday morning we were awake bright and early ready to hunt buffalo which happens to be one of my favorite activities, ever!! After riding many kilometers and walking several more we were unable to find any fresh buffalo tracks. We did find one cobra. It is amazing how high a tracker can jump. That evening we walked down the Chifudze River from the camp. We found some fresh buffalo tracks going in to the park and two sets of lion tracks. Shaun and I decided not to sit on the river as it was becoming late and let the buffalo cross back on our side unmolested. We saw a python with a bad attitude on the way back to camp. While we did not see much it was great to be back hunting in Africa.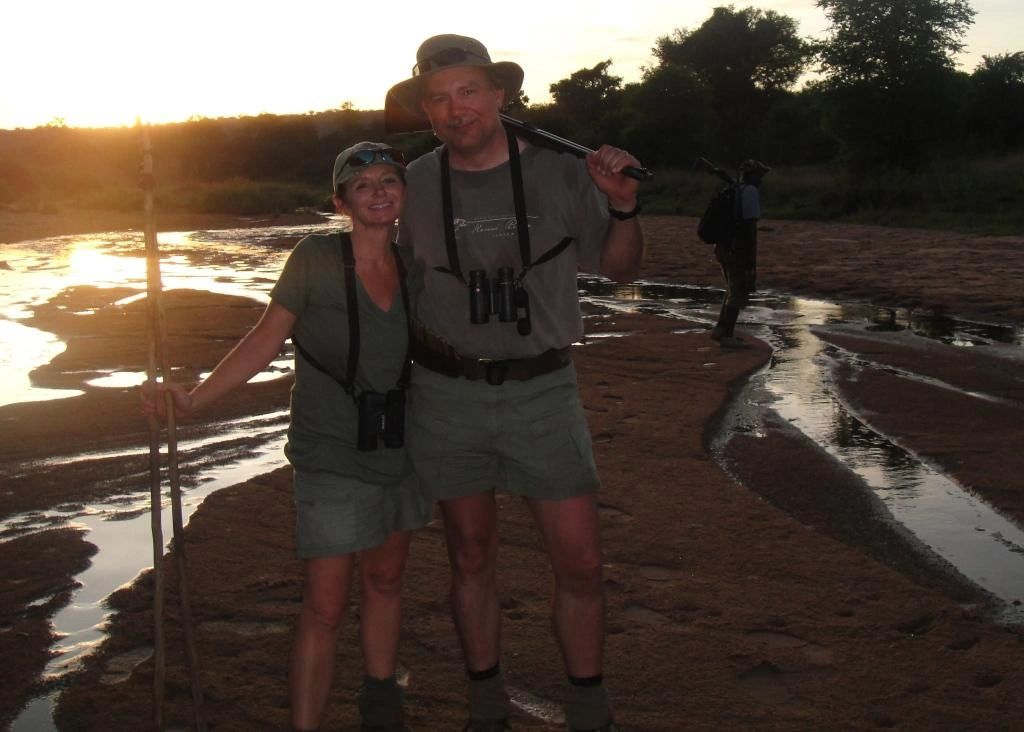 Beats being in the office!!!
Friday, April 29th we left our camp at first light on foot. It was the first time I ever started a day of hunting in Africa without riding in a Land Cruiser. Within a kilometer of the camp we saw the two lions. Luckily they ran in to the park and left us alone. We continued for several more kilometers and found the buffalo tracks crossing in to the Omay. We followed the tracks in some of the thickest and tallest grass you would want to deal with. It is very green at this time of the year. After several kilometers we were able to find the herd. We worked our way around and climbed a small hill to give us the ability to see the herd. As they started crossing a clearing at about 75 yards, Shaun saw a very old mud covered bull in the herd. He whistled and the bull turned towards us. A shot from the 375 in the shoulder with him quartering towards me was all it took, but I backed it up with a solid on a raking shot. We waited a couple of minutes and heard the death bellow close by. It was now raining very hard and I was worried the blood would be washed away. I grabbed my double and we started the follow up. Fortunately it was dead about a hundred yards from where I shot it. We now had bait, but more important we had a fine old bull; it was the buffalo trophy I was looking for on this hunt.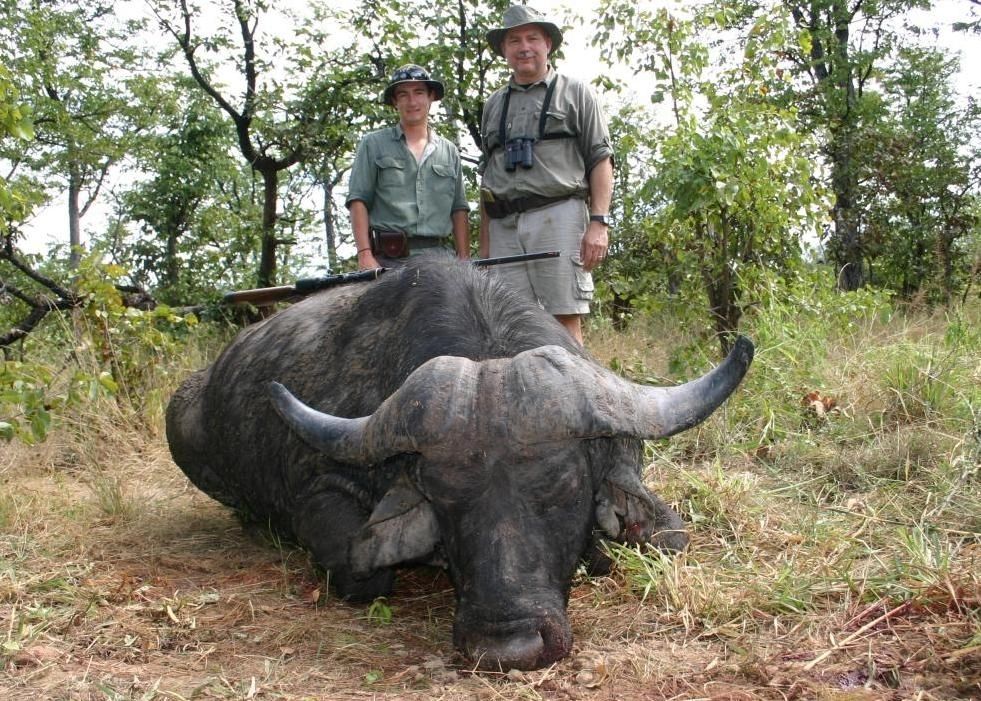 Shaun Buffee and me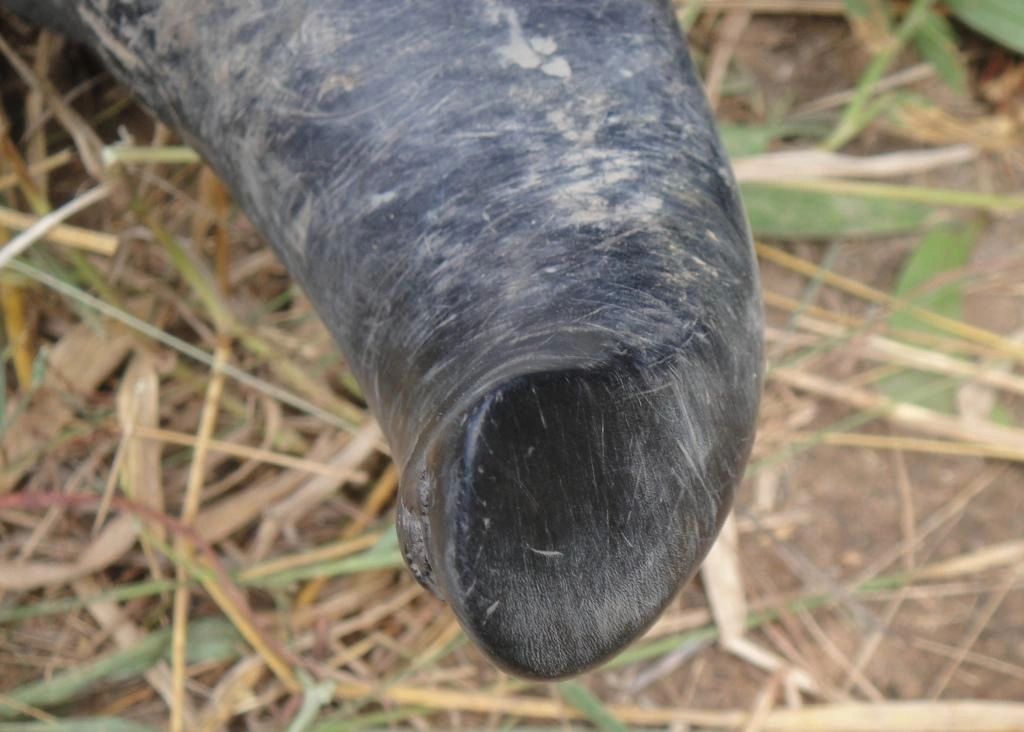 I would say his tips are pretty well worn.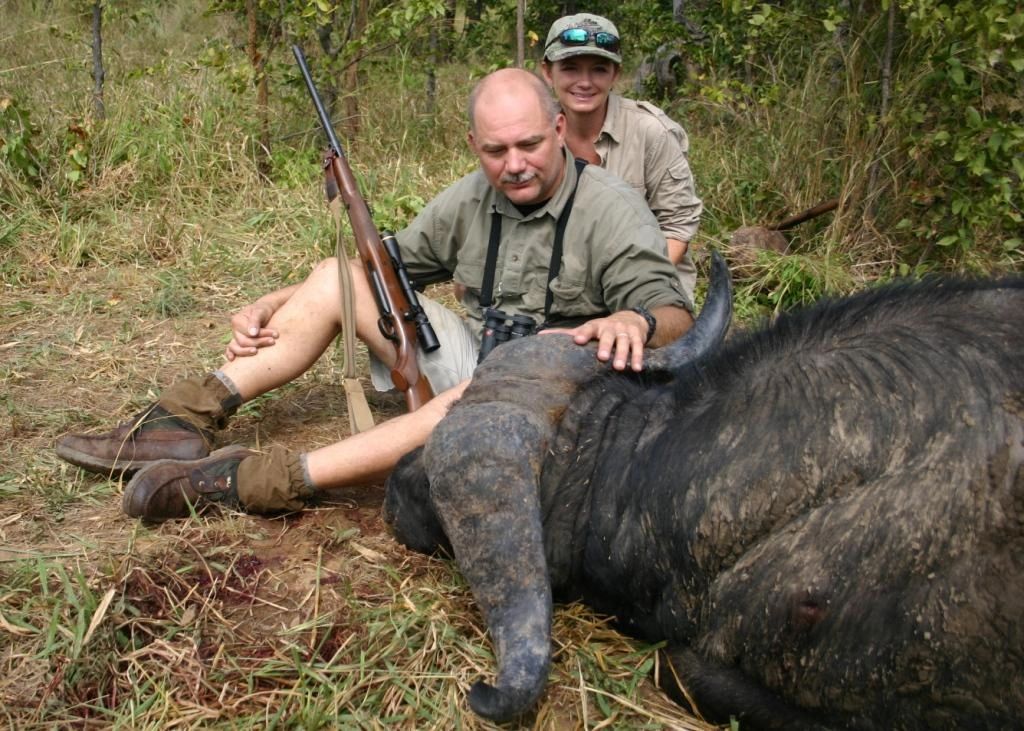 Nice old bull

I am not sure if we were hunting buffalo or bongo.
We now have bait! We walked back to camp and drove the cruiser to the buffalo which required us to cut a road. After taking pictures, the buffalo was quickly skinned and butchered for leopard bait. It is now time to start hunting leopard.
Over the next two days we placed eight baits in trees all over Omay South. For those who have not hunted leopard this is my description of what happens. First the proper tree in the proper location must be found. Even though I have been to Africa several times I still ask the "what kind of tree, insect, spider, etc" question. Shaun's answer to what kind of tree that is would be something like "Good shade tree, not good for leopard". We walked down rivers looking for tracks and the perfect tree with a good place to build the blind while other baits were hung within sight of the road. Shaun took in account the prevailing winds, would our scent settle in the wrong place, the angle of the cat if he was in the tree, and many other minor details that make a difference. The guys would pull a piece of meat such as a buffalo quarter in the tree and secure with a wire as directed by Shaun. An area around the base of the tree would be cleaned of all leaves and sand would be placed so we could check tracks. Buffalo stomach contents were then spread at the tree base and in the general area. Then we would drag rotten buffalo guts away from the bait in hopes of attracting a big tom.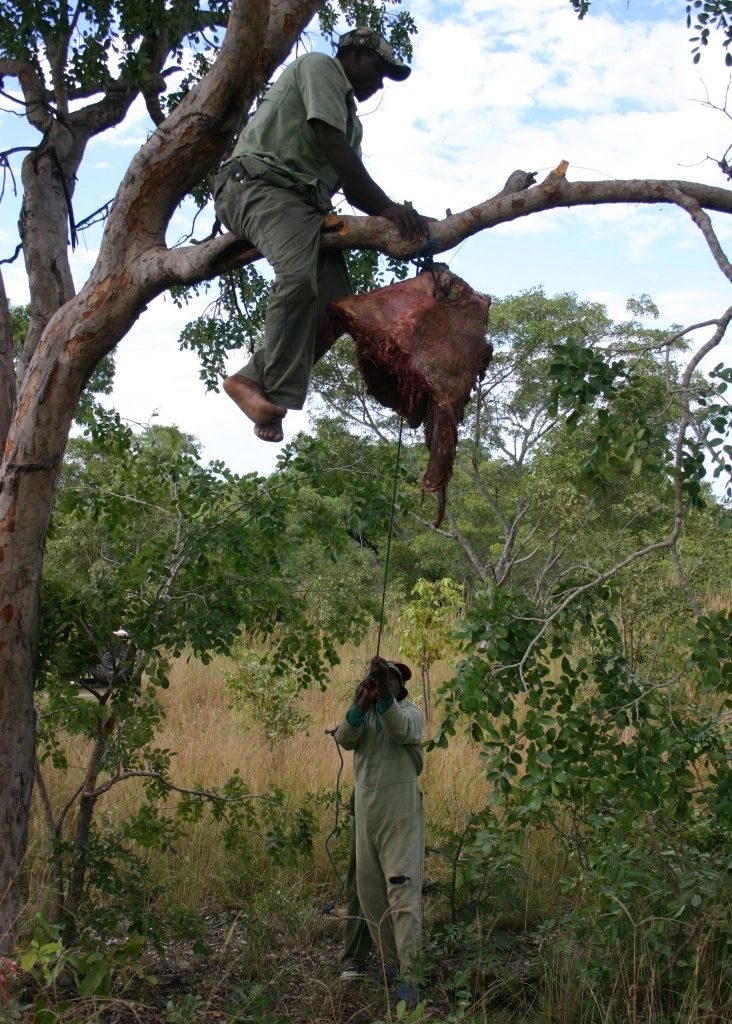 Hanging Baits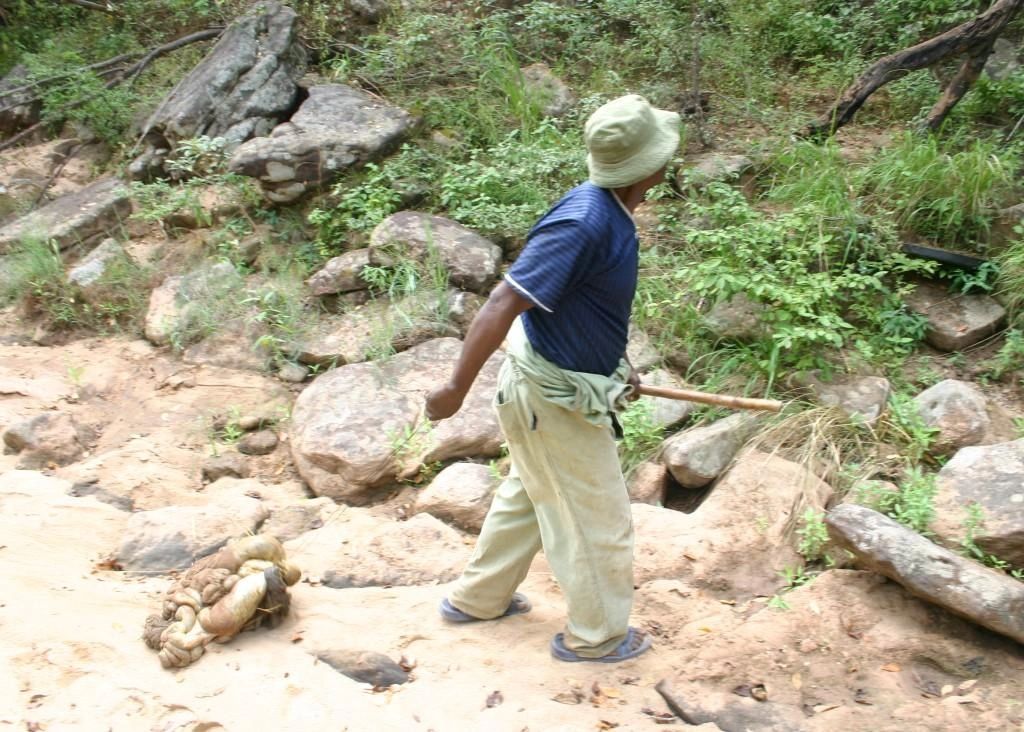 Dragging Baits


One of the rivers we scouted, this is where I discovered quicksand was not just in Tarzan movies.
Once the eight baits were out we traveled nearly 150 kilometers per day to check them all. It was exciting walking up to a bait to find a leopard had fed the previous night. The days were long and grueling but satisfying. We also had two game cameras and soon had pictures of a female and a young male feeding on different baits. Two separate occasions we also saw a female in the daylight with a cub on a bait.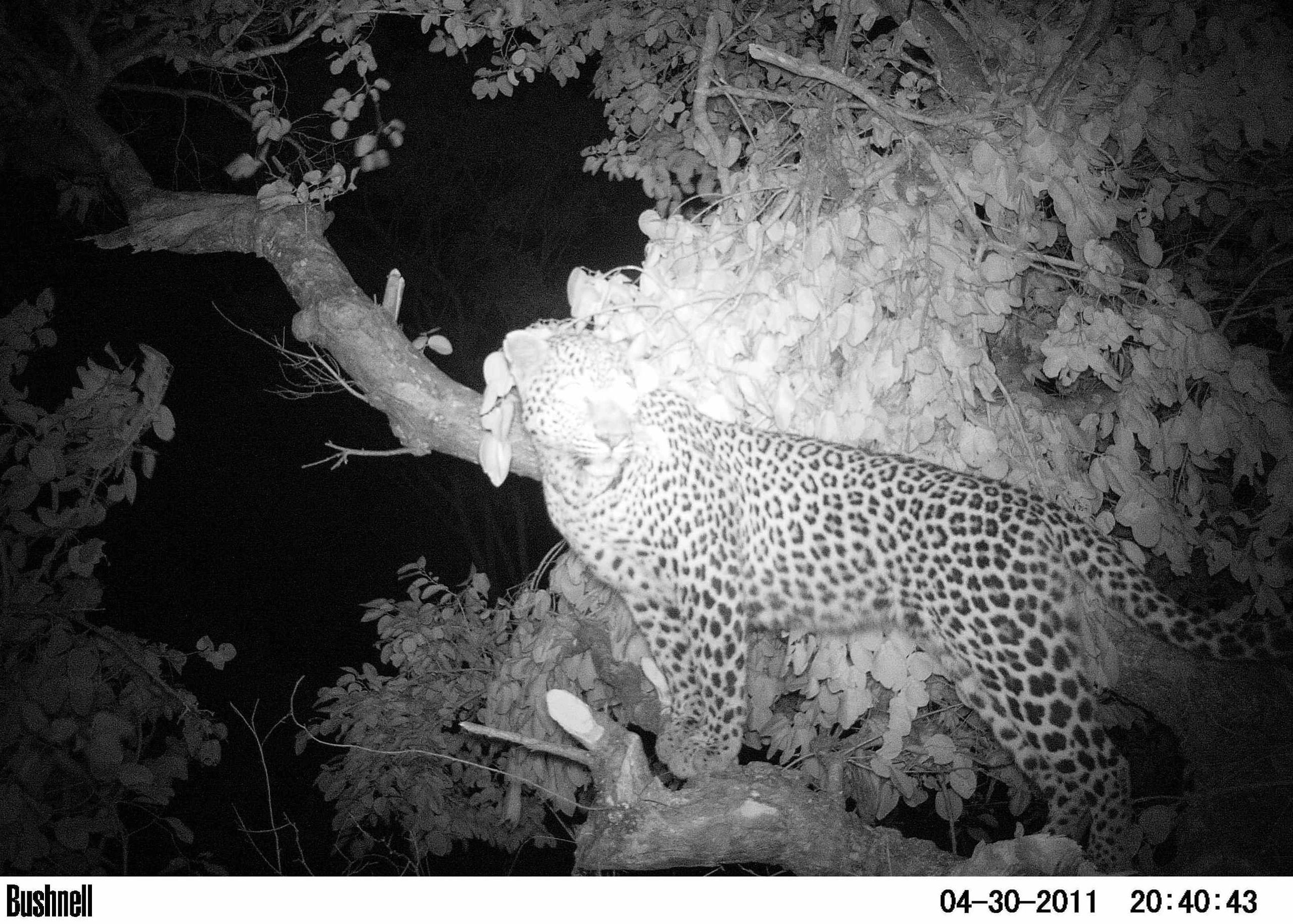 Young Male

Female
The only problem was it was still warm and humid. There was a big rain shower on May 1st. The next morning the weather finally changed and it was dry and cool for the rest of the trip. Unfortunately the humidity took a toll on our bait and by May 3rd they were beginning to rot. The only solution was to hunt another buffalo.
On the 4th we hunted for a buffalo cow all day. While we saw many cows they all had young calves. I almost had to shoot a cow that charged but she stopped about 30 feet away when Shaun shouted her down. We crossed a road during the day and crossed it again about 90 minutes later. We found a nice set of leopard tracks on top of our tracks. Now the pressure was really on. We were in and out of buffalo all day and walked back to the truck in the dark but were unsuccessful. Those are the days I love. We hunted hard and walked quite a few miles. We were chased by elephants, watched a herd of a hundred buffalo stampede, and took a quick nap in a river bed during the heat of the day. It just does not get any better.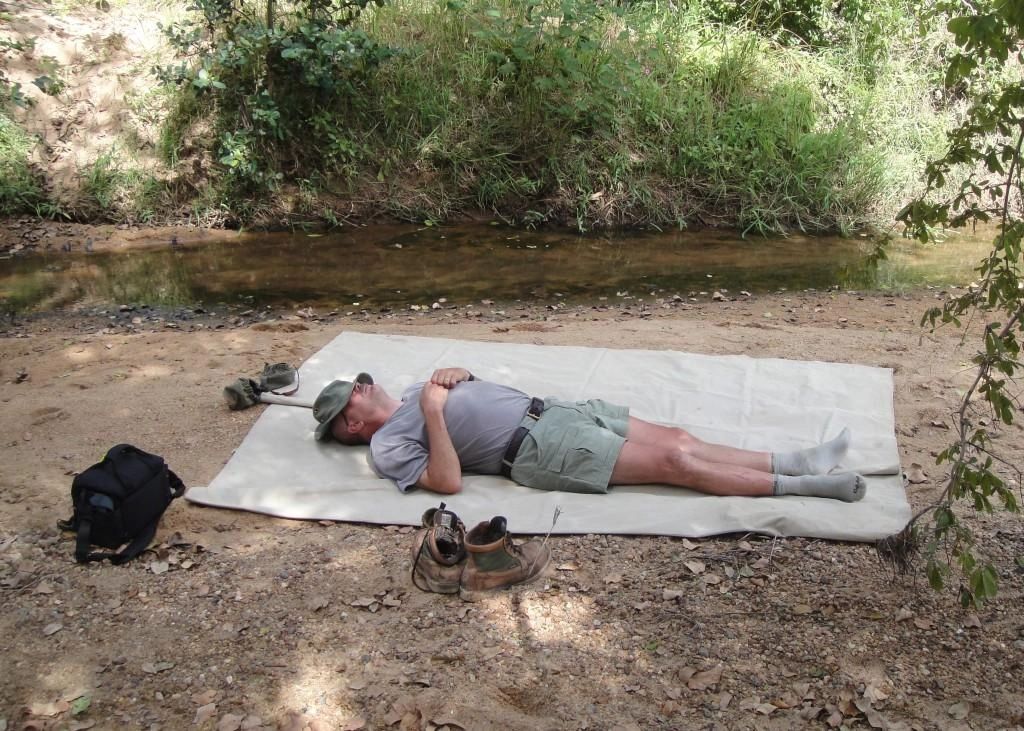 Nothing like a good nap after lunch in the bush.
The next morning we were on buffalo early. We managed to get in front of the herd and waited for them. Shaun and I were behind a tree and I could hear the bovine coming. When the buffalo were visible they were only 25 yards away. A quick look showed a young cow without a calf. I stepped around the tree and shot here through the shoulders. She slung her head back and collapsed like a brain shot elephant. There was one short death bellow on her way down and it was over. The 500 grain North Fork cup point went through the top of her heart. That was my eighth buffalo but the first to die without taking a step. We skinned her where she fell. When Shaun was walking back to the truck her heard lion killing a buffalo calf. Needless to say he did not investigate.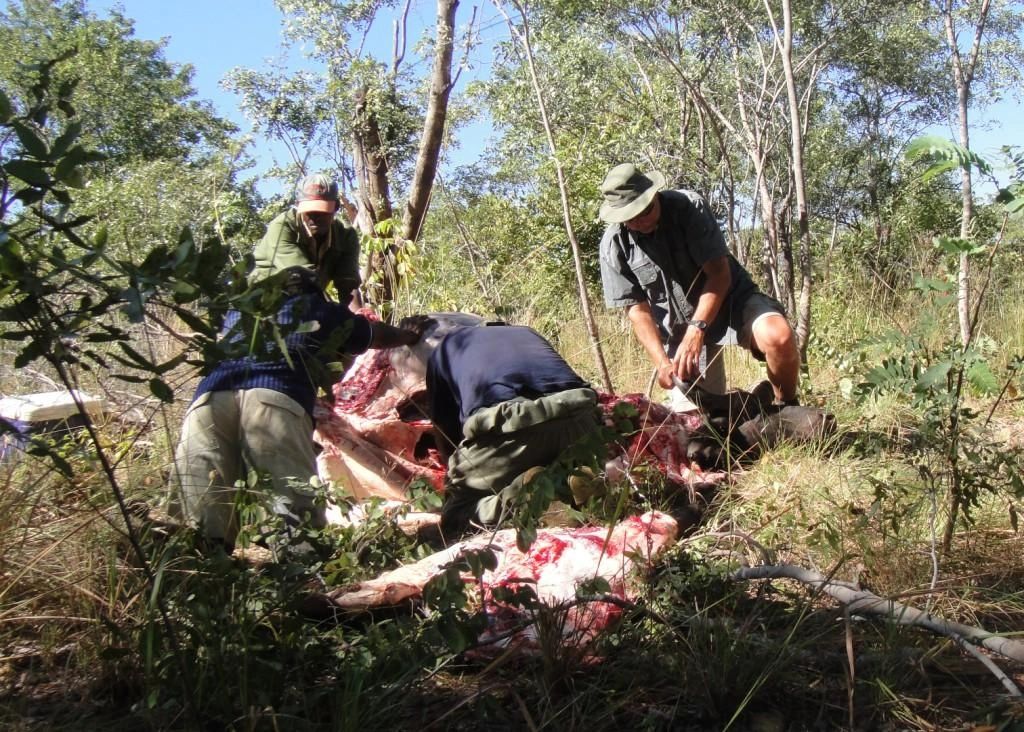 Leopard Bait.
Later in the morning we are putting out fresh bait. We found two baits hit including one near where we saw the tracks in the road the day before. We placed a trail camera on that bait. We were anxious to check baits on the 6th.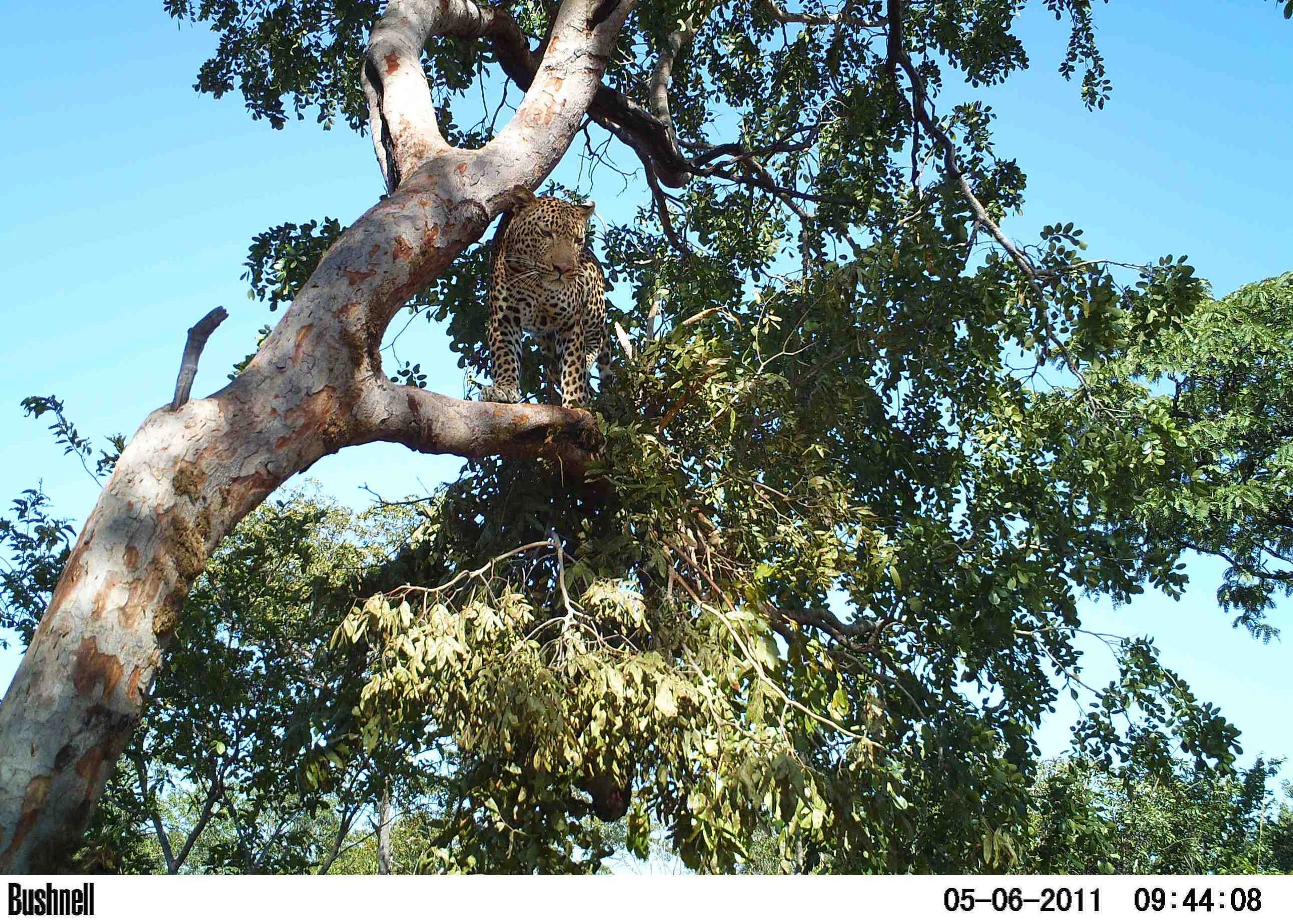 Note the time. It is accurate.
We were back checking baits on the morning of May 6th with high hopes. We arrived at one of the baits the leopard fed on and checked the camera. No pictures but the cat had fed. I did not have something set correctly. Bhekkie went up the tree and covered the bait. I rechecked the camera and it was now working. The time was 7:30 AM. We heard the leopard cough in the distance. We left and continued to check baits. No new tracks on the other baits. It was now too late to build a blind.
The next morning we checked a bait that had a big track from a couple of days before. That cat hit the bait once and never returned. We went back to the bait with the camera. We left that bait a little after 7:30AM the day before. The cat fed at 9:40AM, 1:30PM, 5:39PM, and 1:22AM. He felt he owned the area. We built a blind that morning and left the area for lunch and a nap.
When finalizing plans in Dallas I told Shaun it was my preference to shoot a cat in the daylight. While it would be difficult that was our plan. When we stopped for lunch I realized how nervous I was. The shot was only 46 yards and would be taken from a solid rest but I was very anxious. After relaxing for a while I settled down and Shaun, Katherine, and I headed to the blind.
We were sitting for about two and a half hours when I glanced through my scope and there he was in the tree. We watched him walk up to the leg quarter and swat it like he was trying to kill it. He actually knocked the quarter off the branch and had to reach down and pull it back up. After about ten minutes he was in a good position for me to shoot. I do not think Shaun said "sh" before I pulled the trigger. The leopard actually hung on the bait for about 5 seconds and hit the ground with a thud.
I am happy to say there was no exciting follow up. He was dead under the tree. We hunted our leopard in the daylight and were able to watch him for ten minutes in the tree. That was very exciting and rewarding. We returned to the camp listening to the guys sing songs in celebration. We fired three shots in the air outside of camp and everybody was there to welcome us as we drove in to camp.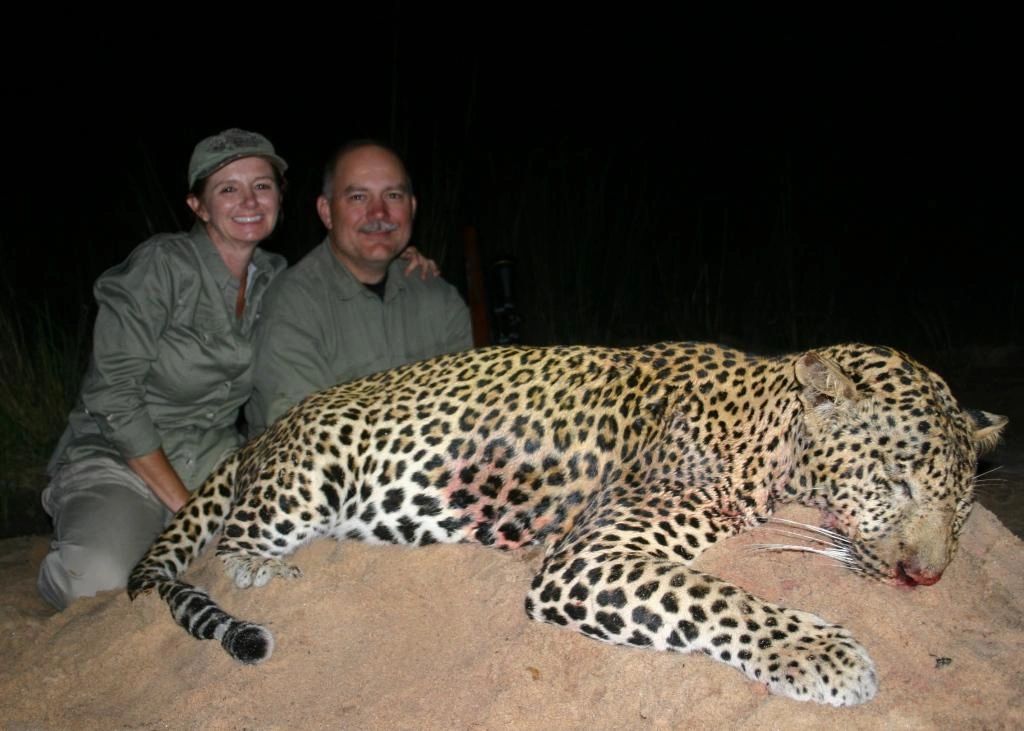 Very happy hunters




Shaun "The Cat Man of Kariba" was excited as Katherine and me.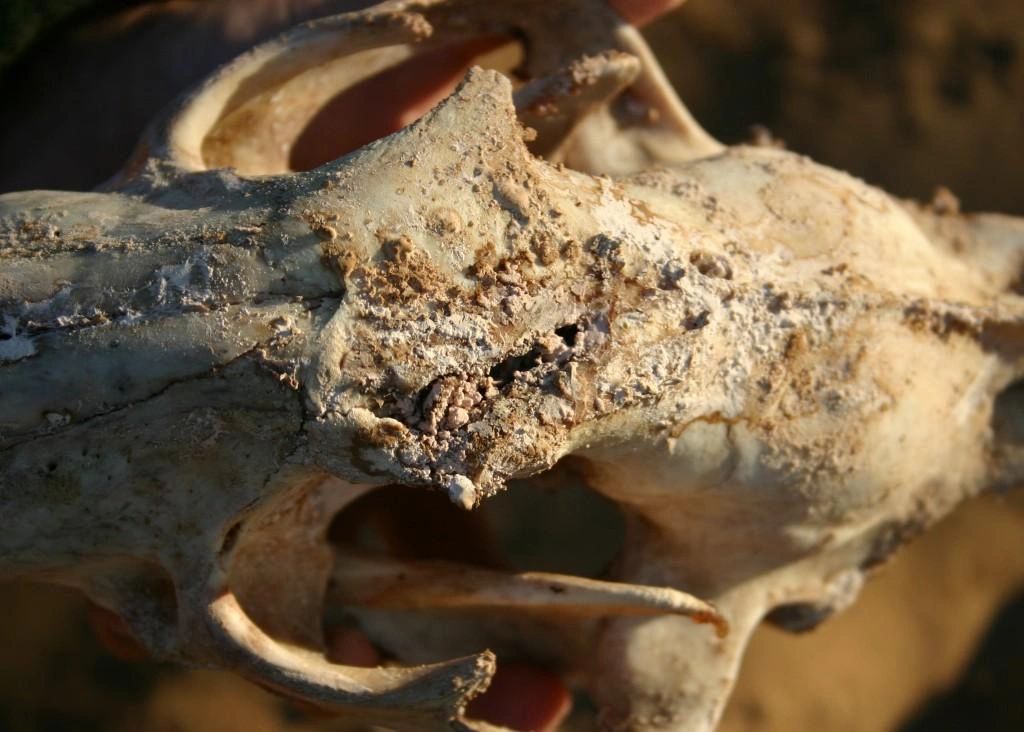 He was a scrapper. The gash in his skill was 1/8" wide, 1" long, and almost in the brain cavity.


He also had a missing canine. It must have been an epic battle.
We still had several days on safari and tried our hand at hyena hunting. This was the first time we ever hunted from a walk in blind. It was interesting walking in the dark barefooted hoping not to bump in to an elephant, snake, or lion. The evening hunts were not bad but the early mornings were very dark with no moon. We had good fun but no luck. We heard the hyena on a natural kill several nights and were unable to attract them to us. Tao told us the hyena were sleeping when we built the blind were able to see us in a dream and that was why they knew where the blind was hidden.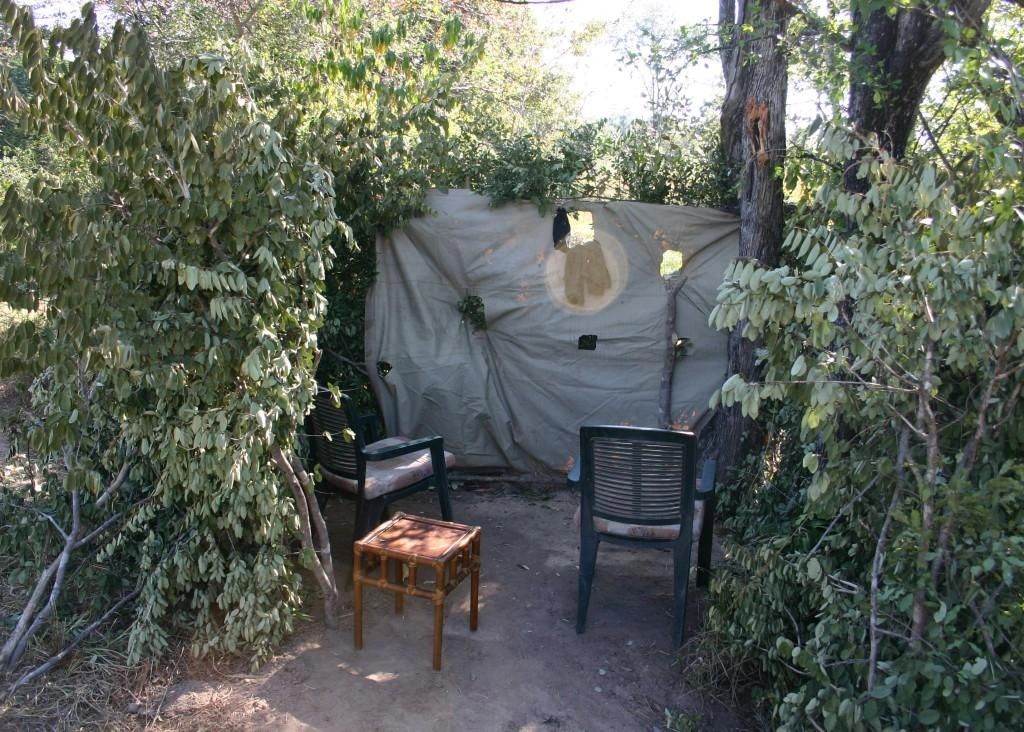 Over the last couple of days of our safari we went exploring sometimes in the cruiser, sometimes on foot. We saw bushbuck, a beautiful herd of sable, kudu (no shooters), impala, waterbuck, and warthogs. There were many enjoyable moments in these days. There was plenty of humor and most of it does not translate well away from the hunt, but one day Bhekkie asked Shaun if we were hunting or having some kind of party.
Shaun Buffee is the professional in Professional Hunter. He is an excellent hunter and a gentleman. He worked hard and loves hunting leopard. There is an upper echelon of hunters in Zimbabwe, some of which I have had the privilege to hunt with. I feel Shaun is in this group. I would hunt with him again and would recommend his services without reservation. His full time tracker Bhekkie is remarkable and they work well together. Bhekkie has a very good demeanor and a wonderful sense of humor.
Other notes:
After our last hunt I noted that my shooting was about 90 percent of where it needed to be. This hunt I had three one shot kills with three different rifles on dangerous game. The buffalo received some unneeded insurance shots but it pays to be safe. The Omay South area is still a good dangerous game area. Plenty of buffalo, another hunter shot a 40+ pound elephant while I was there, there are good leopard. Lion would be tough but they are there. I would also like to get a crack at one of the big sable that lives there.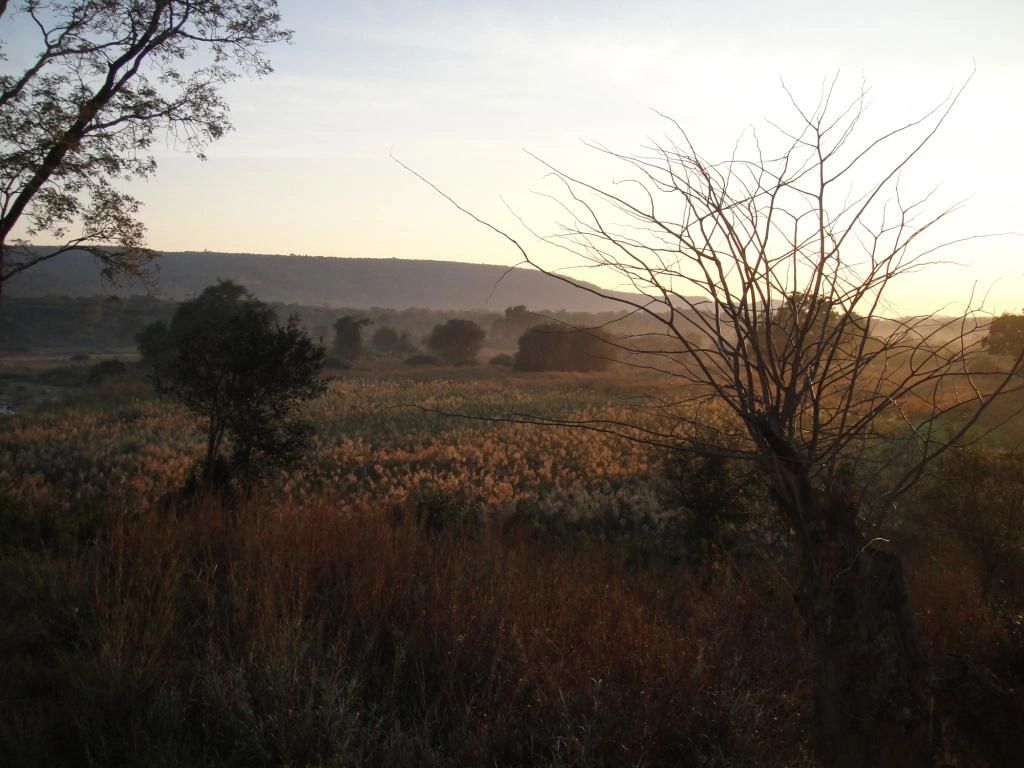 Early morning in the Chifudze camp


OK it is false advertising, I shot him with the CZ but the double just looks cool.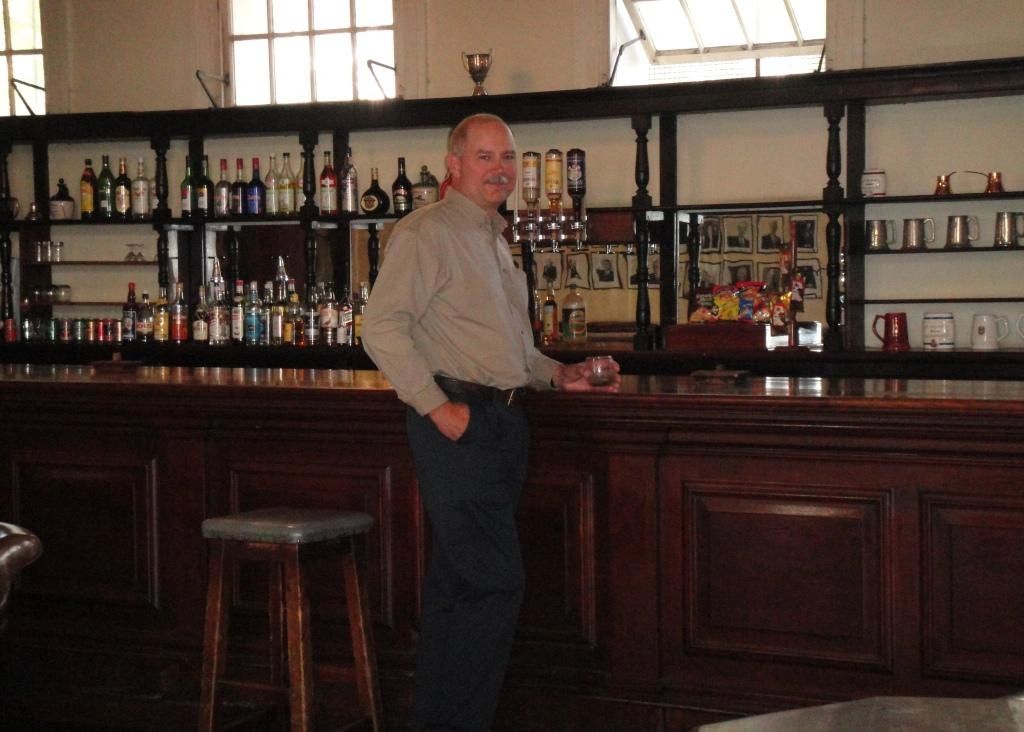 The Bulawayo Club, we also went to Busters. Martin and Candy were gracious hosts.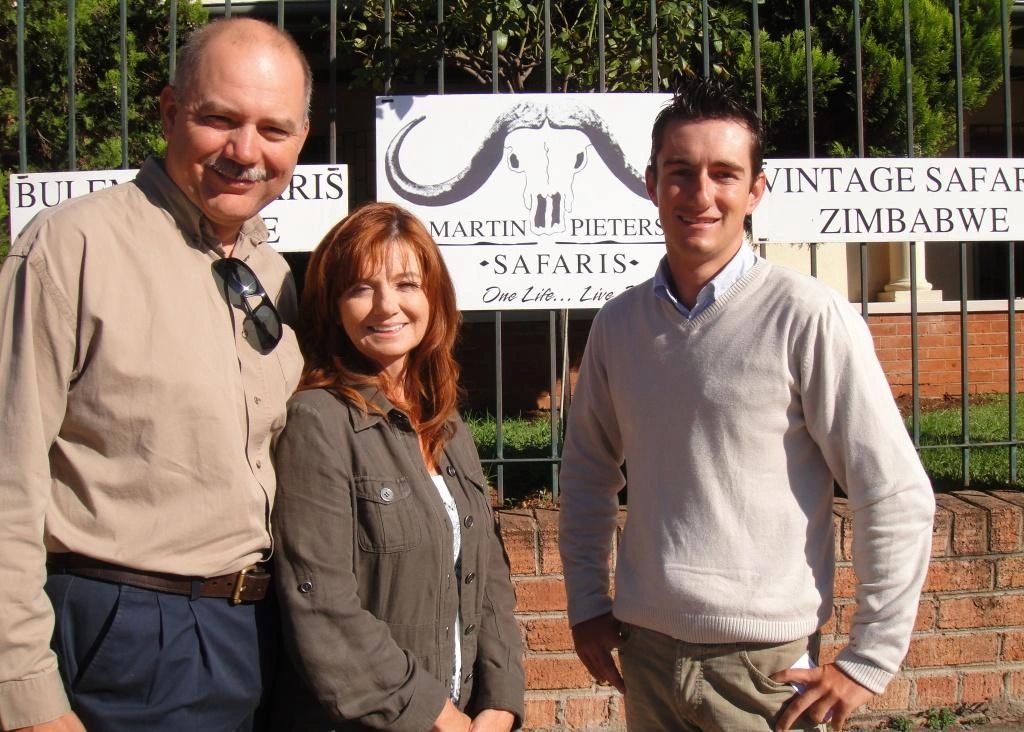 Our departing picture in front of Martin's office.



Africa 2010

As with many trips, planning our latest adventure Mokore Safaris began what seems to be a long time ago. What started as a bull elephant hunt in March evolved in to a two country three week sable, tuskless elephant and trophy buffalo in September. Of course kudu and other plains game were on the menu. Mark Young and Jamie at Adam Clements Safari Trackers were their usual helpful selves taking care of the details. A week prior to leaving I almost cancelled the Mozambique part of the hunt. What a mistake that would have been.

Rifles for the trip are all classic calibers. The three gun battery included the venerable 470 Nitro, 375 H&H, and a 7 by 57. All have been getting the job done for over 100 years. The 470 is a left hand Krieghoff which I previously used to kill a buffalo cow and tuskless elephant with Martin Pieters in 2008. The 375 is a left hand CZ 550 upgraded by American Hunting Rifles. It was the first left hand CZ that Wayne modified. The 7 by 57 has some history. My Dad acquired the barreled action in the early 60s. He passed away in 1985 and my brother kept the rifle until around 2002. I obtained it from him and let it sit around until 2008. I sent it to a local gunsmith where it sat around for a year and half with no work being done. I then picked it up and sent it to American Hunting Rifles where it was restocked, rebarreled, and reworked. I was very pleased with the outcome.

All ammunition was hand loaded by me. Early this year I started testing bullets. It was an interesting learning experience. I know round nose solids have worked for years but I was truly impressed with the flat nose solids especially the North Forks. I even made a change at the last minute for the softs I shot in the 470. My original intent was to use Woodleigh softs but after reading the test results on the North Fork cup points I had some overnighted, checked regulation and velocity in the Double, and ran some penetration tests. Everything was fine.
Final decisions were 500 grain North Fork solids and cup points for the 470 Nitro, 300 grain North Fork softs and Barnes Banded solids for the 375 H&H, and 160 grain Swifts for the Mauser. Some of the reloading was done with a Herter's press and dies my Dad ordered when he bought the Mauser action.

Since 1979 I have hunted alligators on my hunting lease all but two seasons. When we finalized the trip with Mokore safaris at the DSC convention we wanted Neil Duckworth to be our PH. He was available in September so that is when we booked not taking in to account that it could coincide with alligator season. Well of course it nearly did. So four days before we left I started hunting alligators and had 36 tags to fill. The third day we caught one of the biggest alligators I have ever killed. It killed a seven foot alligator on the line the previous day. The monster also pulled the pole the line was tied to out of the ground. We were very fortunate to find the gator, line, and pole all still attached to each other. At the end of the day I was glad to finish without being bit, cut, hooked, or any other bad thing happening that would prevent my trip to Africa.

The big day finally rolls around and Katherine and I enjoy a very non eventful trip to Jo'berg on Delta. The seats were comfortable and in flight entertainment was good. Food was typical airline grub and can always be a little better. The flight crew was excellent. Gracy travel handled the accommodations and everything went as planned. We cleared immigration and customs with no problems and our array of luggage arrived. Africa Sky guest house was nice and much busier than last October. Their food was excellent and the bed comfortable. The next morning we traveled back to Tembo and who sat next to me in the van? It was none other than Ivan Carter. We had conversation about hunting and Accurate Reloading. I met another gentleman from Phoenix that was heading to Zambia. It was his first trip to Africa and he used a local travel agent. He missed his connection the previous night and had no SAPS paperwork or even a place to stay. Chris with Gracy Travel helped him with SAPS paperwork, helped him clear his firearms, and found a place for him to stay. I know Gracy has taken a beating on AR before but I was very pleased with their service and it was good to see Chris go the extra step to help somebody who really needed it.

We arrived in Harare via South Africa Air as scheduled. Last year when I flew to Bulawayo, SAA made me remove my ammunition from the luggage and ship it in its locked case. This year they did not even look at the ammo and there were no issues with the weight of the carry on bags. SAA is weighing carry on baggage, however Chris informed them we were going on safari and they said no problem even though we were overweight. Another plus for using Gracy.

Upon arrival in Harare I was expecting somebody from Mokore to meet us at the gate with Zimbabwe gun permits but nobody was there. Katherine calmly filled out the paperwork. We passed through customs and our driver arrived. He was an apprentice PH named Courtney. We loaded the vehicle and began a very interesting journey to Coutada Nine in Mozambique. We cleared immigration at the Zimbabwe Mozambique border with no problems just a short wait. By this time it was becoming dark. No street lights, no lines in the road, many vehicles without tail lights or head lights made the next hour and a half exciting. We stopped in Chimoio and enjoyed a good dinner at a local establishment. We then decided to spend the night in at the Duckworth's plot outside Chimoio, rather than risk death on the Mozambique roads at night.

Tuesday morning we started early and arrived at Mokore Safari's camp at Coutada Nine in about three hours. There we were greeted by Neil and Mr. Barrie Duckworth. The camp is new and very nice. The layout is great with a good view of a water hole to view game. We quickly settled in and loaded on to a Land Cruiser. Neil and I had a conversation about expectations for trophies and follow up shots. My view is simple, I am not hunting inches but I like good mature trophies and as long as I am shooting and not endangering anybody let me shoot. I sighted in the .375 and we went hunting. After riding for about an hour we stopped and had lunch. Cole slaw, beans, and a cut of venison that was better that many forty dollar steaks I have eaten. After a short rest we began to hunt on foot for sable. Neil is a PH that likes to walk if that is what the client wants. In about a mile we crossed a warthog with some nice ivory. Neil asked me if I wanted to shoot him and I answered yes. Up came the rifle and drilled him at about 50 yards offhand. He dropped and put a second one in the spine after we walked up to him. The trackers quartered him and cut the head off for a skull mount. We continued hunting for another 3 to 4 miles. The truck was waiting and we loaded the warthog. We drove for a while viewing the amazing amount of game on the concession. As we headed to camp Neil spotted a very nice sable. After a short stalk I fired the 375 and the sable stumbled then ran. Neil, Eric (tracker) and I followed the sable and found him down about 200 yards away. Neil told me to shoot again, the bullet struck the sable in the shoulder. One final shot at 10 yards and it was over. The sable was very mature and approximately 38" but was not measured.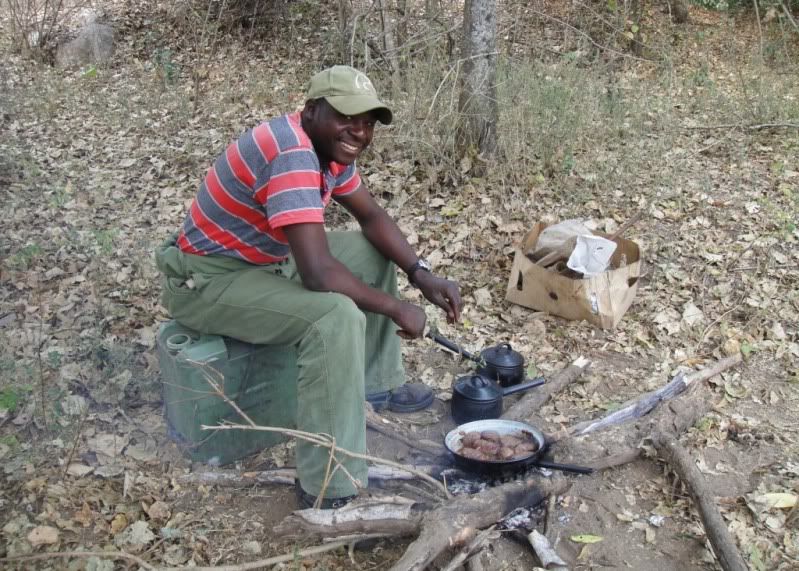 Bush cook and good guy Charm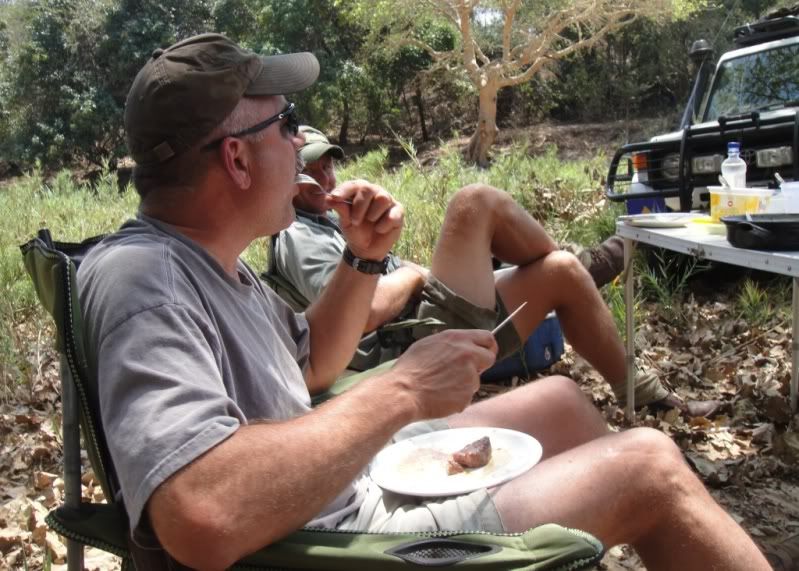 Enjoying lunch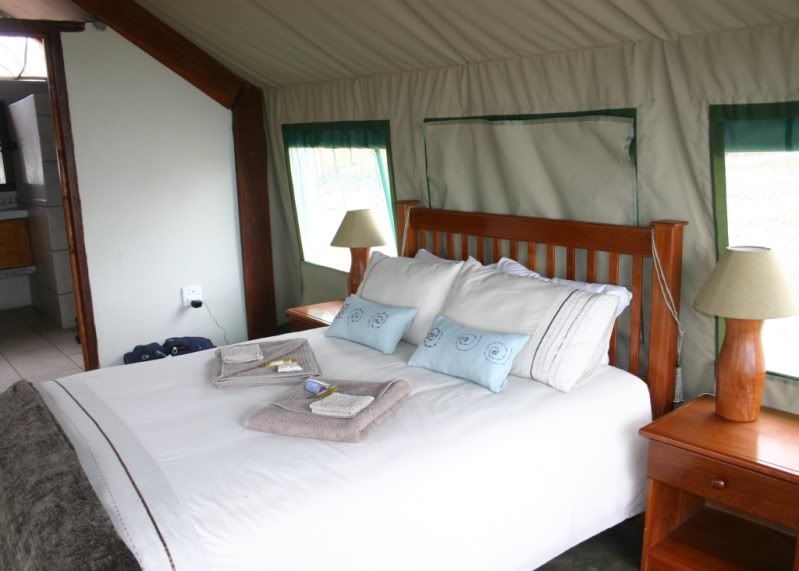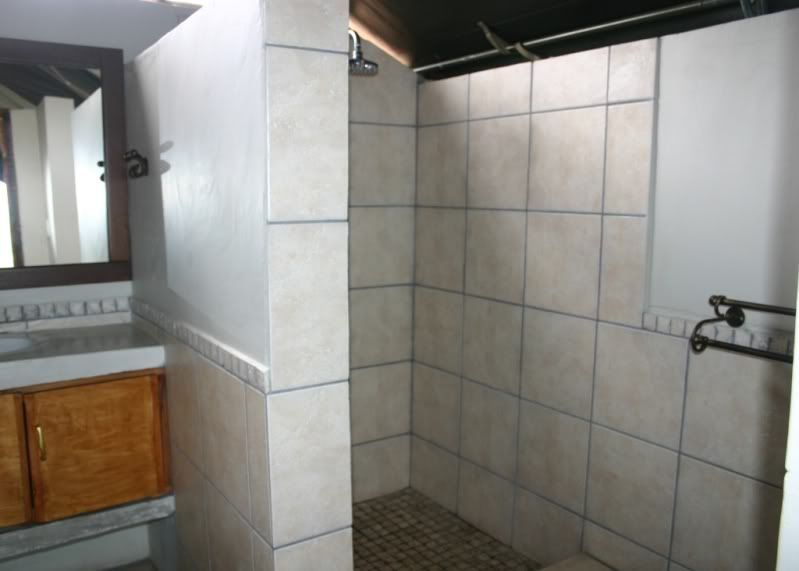 A couple of photos of the tent, I wish we had some better photos of the Mozambique camp but we seldom saw it in the daylight.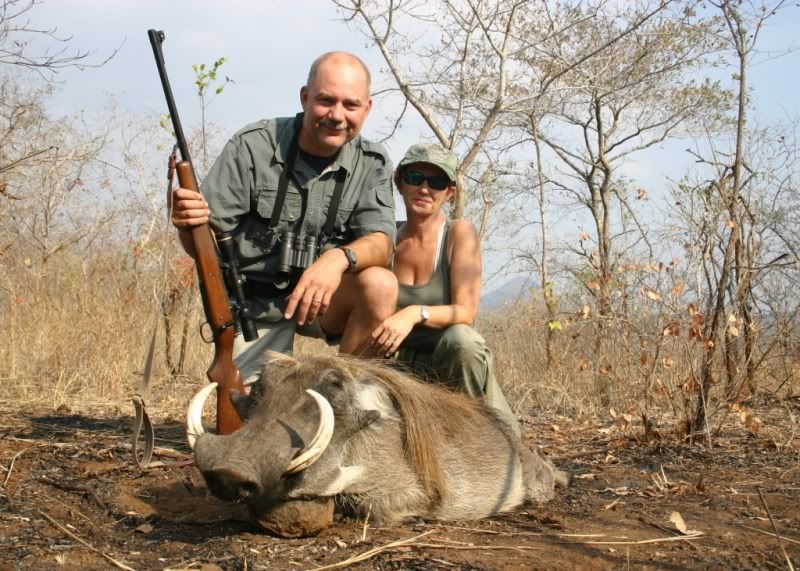 First animal killed on safari, I think Neil wanted to see how I would shoot.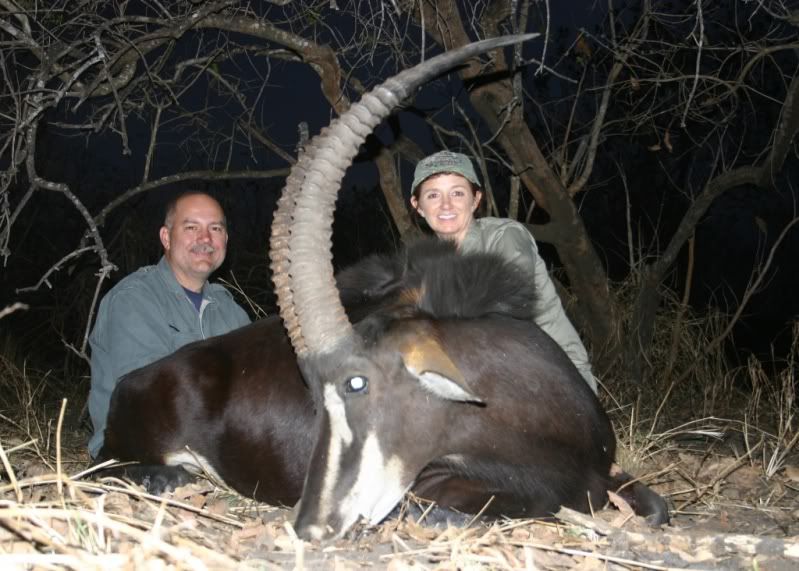 Killing the sable on the first day took alot of pressure off the hunt.

The next morning we drove a couple of miles away from camp and began walking. After about an hour we ran across a nice oribi. Katherine and Neil stalked to within 50 yards but were unable to get a good shot as the ram was chasing ewes. We completed that walk and were driving to another area when a nice impala was spotted. Katherine and Neil worked their way to within 60 yards. Katherine made a fine shoulder shot and that was all it took. The impala was a fine old ram. At this point I am the subject of ridicule. My wife fired one shot and killed one animal and I fired five to kill two animals and it would only get worse. Later that morning I spotted three kudu bulls and after Neil took a quick look we began a slow and arduous stalk. The kudu were in thick cover and there was little cover where we needed to be. Finally we were close enough with one small alley to shoot through. Neil set up the two legged shooting sticks and I was unable to get in a decent position to shoot left handed which is my natural side. So I made the mistake and shot right handed, hit a branch, hit a small tree, thankfully cleanly missed the kudu, and then hit a rather large tree that stopped the bullet. Now I am up to six shots and killed two animals and three trees. It is amazing how other people find amusement in your pain. Lunch in the field was excellent again. After lunch we began a long walk down a dry river bed. About two hours in the walk we came upon a water hole. After looking for tracks we began to leave when Katherine noticed a warthog on the edge of the water. We thought it was dead until Neil saw its stomach move. I put a 375 round in to it and the trackers drug it out of the mud. Neil radioed the truck which was only about one kilometer away. When the driver arrived with the truck he told us he had just passed a big male lion. Had Katherine not seen the warthog and we kept walking we would have very well stumbled upon the lion while we were on foot. We cut the head off the hog and tied the body to the Cruiser. We drove down the river bed saw the lion and left the warthog. This particular lion had an injured front foot from a gin trap used by poachers. Several other lions in the area have suffered the same fate. Mokore runs a very good anti poaching program but they cannot cover the whole over 200,000 acre concession every day. These lions were brought in from a photographic area to help rebuild the population. This is only one of many initiatives Mokore has started to make this area even better. We took one more walk in the evening on another dry river looking for bushbuck but were unsuccessful.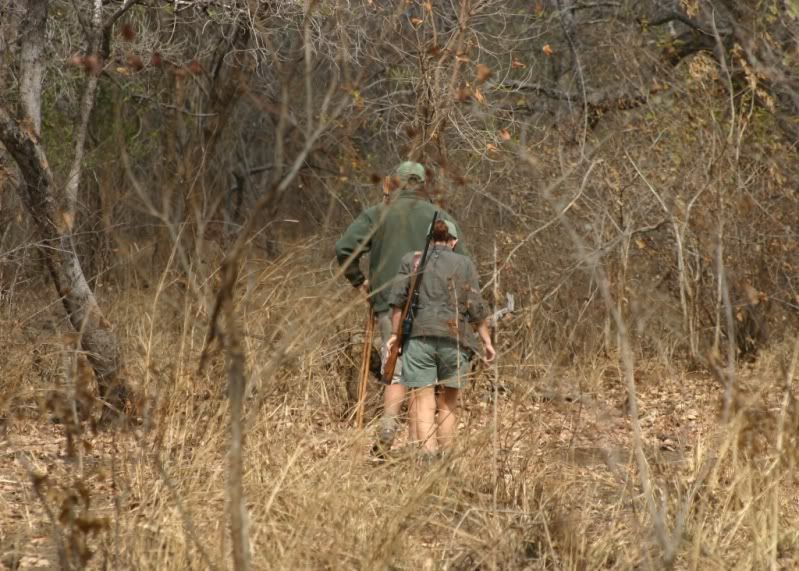 Katherine and Neil stalking the impala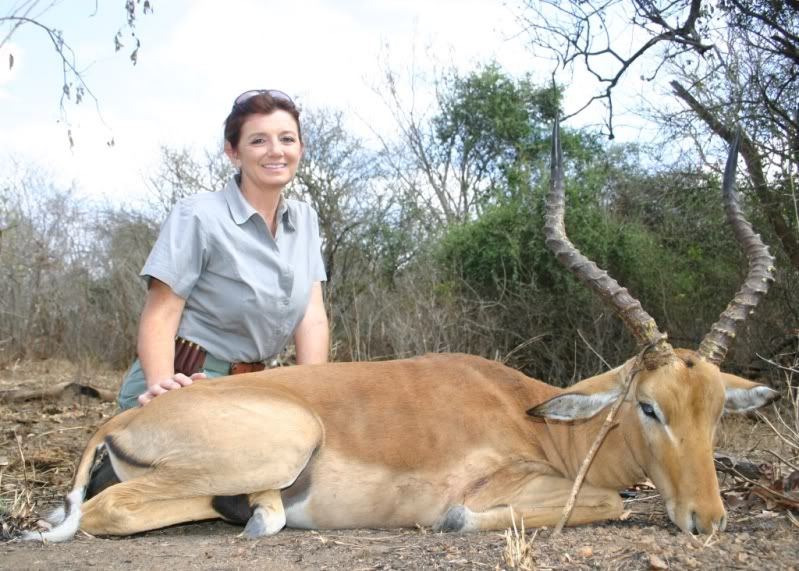 A very happy huntress with her first African kill.




Near dead hog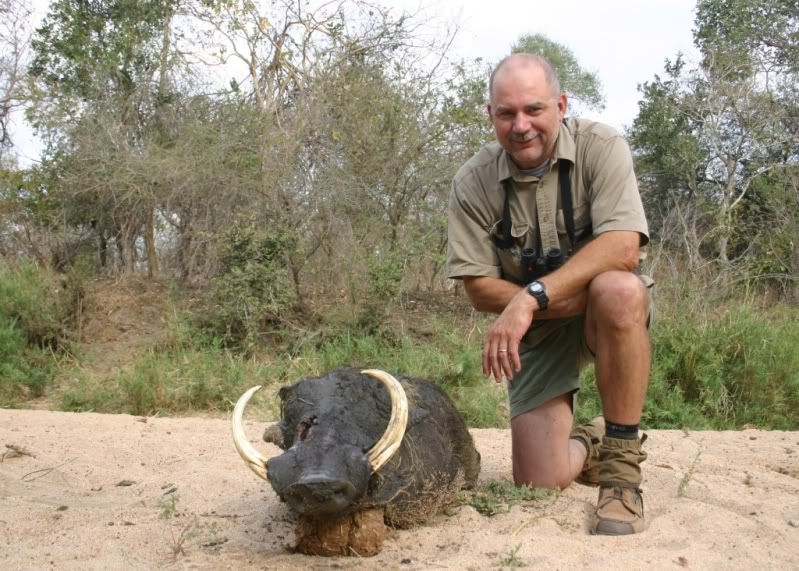 Nice ivory, we left it at camp.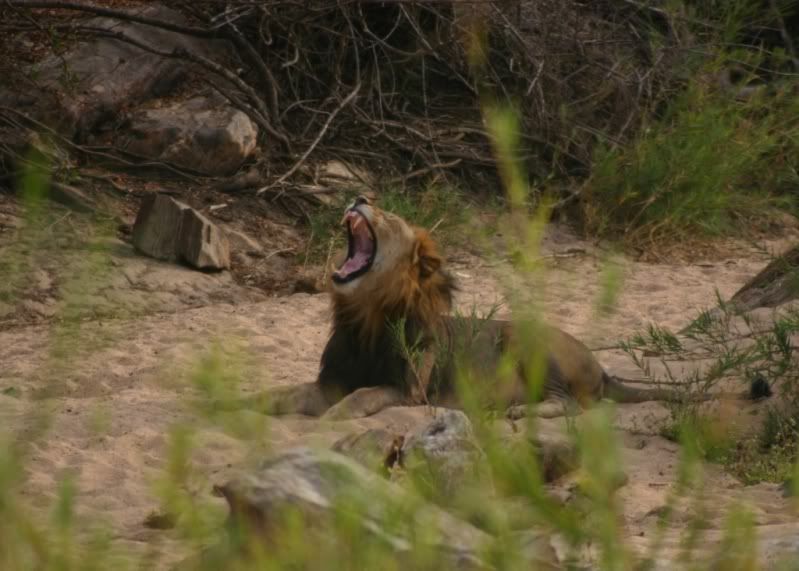 Big Yawn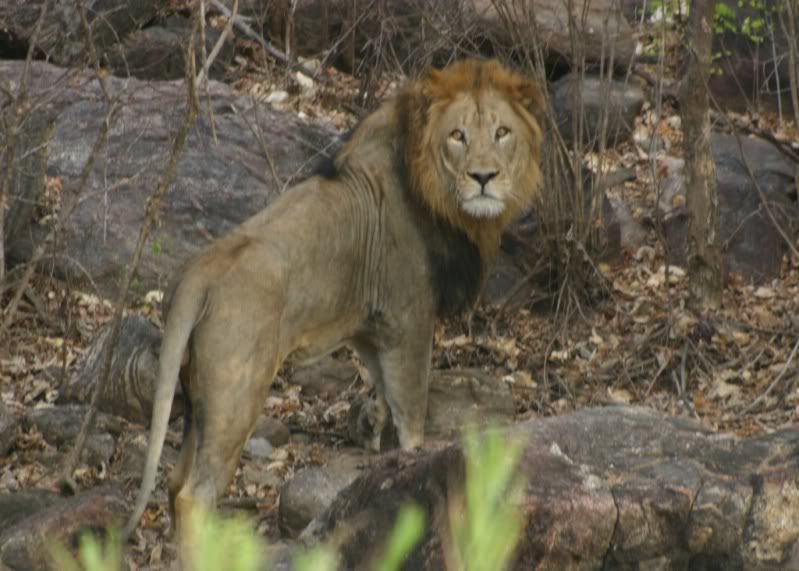 Looking tough



Thursday morning started with checking a waterhole for tracks. We found a big lone dugga boy had visited the night before. We continued hunting and came upon a very nice kudu. After a painstaking stalk and having to quell some nervous jitters I fired a very nice high shoulder shot a dropped the kudu in its tracks. I put two more insurance shots in him. We made another long walk for bushbuck but were unsuccessful. We decided to look for the buffalo in hopes of finding him traveling to the waterhole. We spent nearly five hours tracking and looking but were unsuccessful, but our hopes were lifted after finding some very fresh spoor just before dark. It was after dark when we returned to the Land Cruiser. We did see a couple of nyala while looking for the buffalo.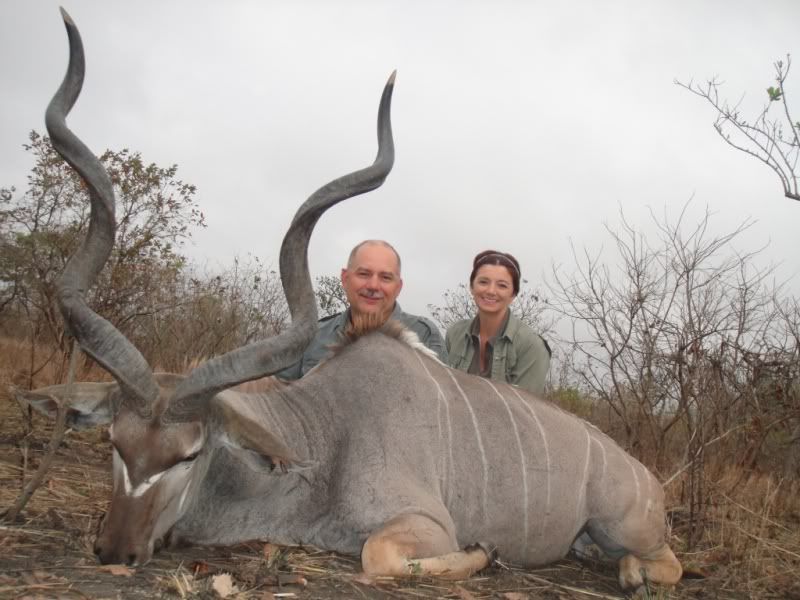 My first Kudu, a little under 55"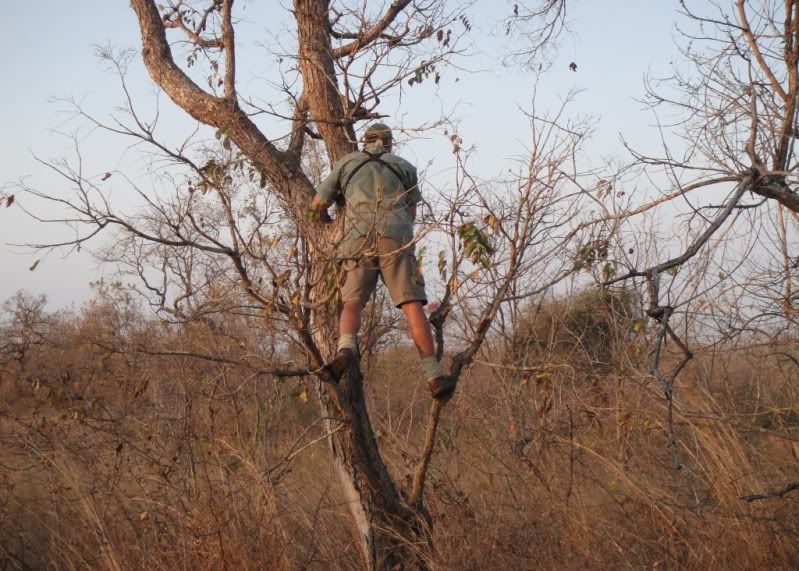 Looking for buffalo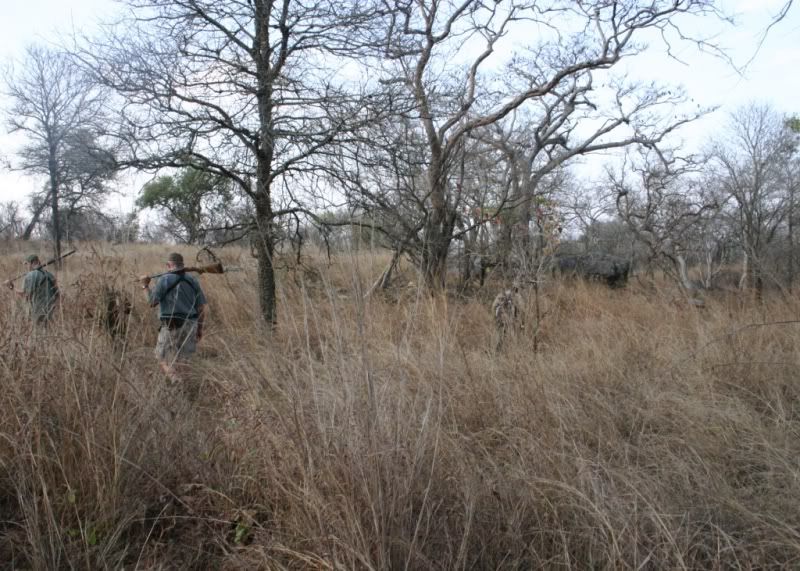 This is where my buffalo was living, keep this mind for the follow up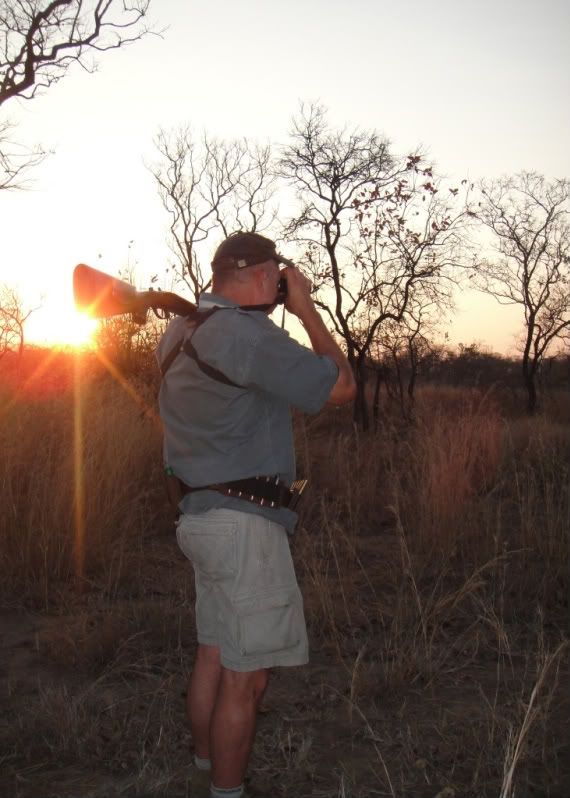 Hunting until sunset and walking back after dark

At our usual 4:30 am wakeup I was ready to go hunting after dreaming of cape buffalo all night. We left camp at 5:30 and excitement turned to disappointment when we could not find any fresh tracks at the water hole. Following a couple of hours riding and looking for tracks we decided to hunt plains game and approach the buffalo from a different direction in the afternoon. We soon crossed a reedbuck, the first shot was decent at about 140 yards but it decided to turn and run. The second shot at the running reedbuck was very near the spine at 170 yards. As we approached him he jumped up and I shot him one final time in a dead run. It was a very mature reedbuck. We walked back to the truck, collected the reedbuck, and headed back to camp. By now the non English speaking tracker has joined in on ribbing me about my shooting as he holds up three fingers for three shots each for the sable, kudu, and reedbuck, and it is going to get worse. This was our first lunch in camp. After eating and taking a short rest we were back on the road in search of buffalo, only without 470 bullets. I left my shell belt with all but three of my 470 rounds at camp. I thought for a second about chancing it with three rounds, after all it only took three for my last animals, but I asked Neil to return to camp. Five minutes later we were back on the road heading to a dry river bed to begin a long walk looking for buffalo. About two hours in to the walk we left the river bed and walked to the last fresh sign we saw the day before. After another several miles we were in the dugga boy's back yard. The tracker and Neil froze in front of me. I looked to the left and there was this big black locomotive staring at us. Neil whispered to shoot the bull dead center. The first shot from the open sight 470 was in the chest about four or five inches off center. He spun around and I fired the second shot too quickly hitting him high in the back. The buffalo ran about 100 yards and turned giving me a quartering shot. I put another 500 grain bullet in his left shoulder. He ran again and my fourth shot missed. He then disappeared in to the long grass. We tracked him for a little less than an hour when Neil spotted him in an open area. Six more insurance shots (We were taking no chances) from the 470 and it was over. Tracking a buffalo in grass that is over four feet tall is nerve racking. We would make loops and pick up the blood trail instead of just following him. We were very fortunate he decided to layup in an open area. My wife followed us through the entire ordeal. I thanked Neil for letting me do all of the shooting and allowing me to work with him on the follow up with many times we were side by side. For you purist out there, all of the buffalo shooting was done offhand with no shooting sticks. It is truly a once in a lifetime buffalo.




First ever reedbuck, a fine old ram and it was just a warm up for the rest of the day.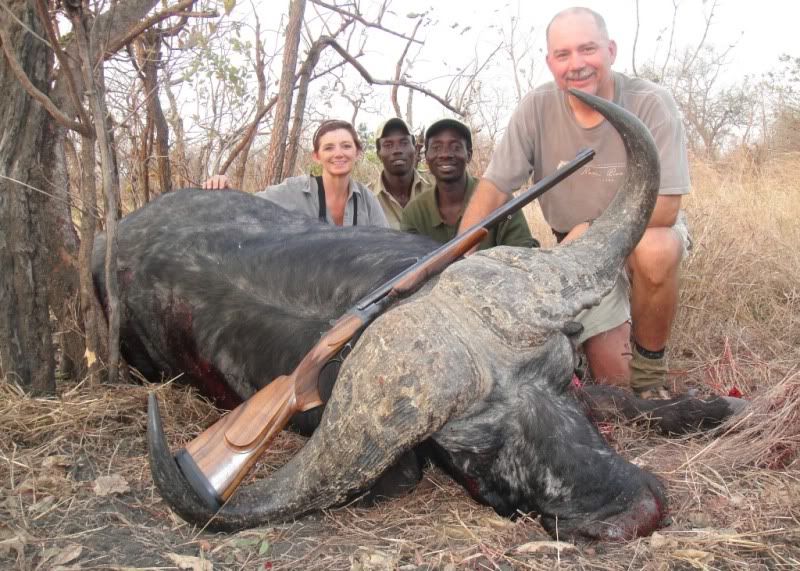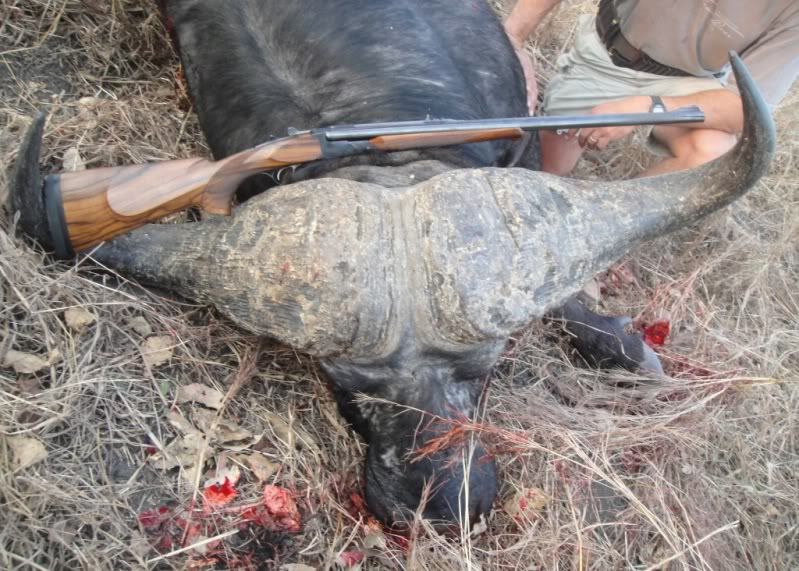 What else can I say.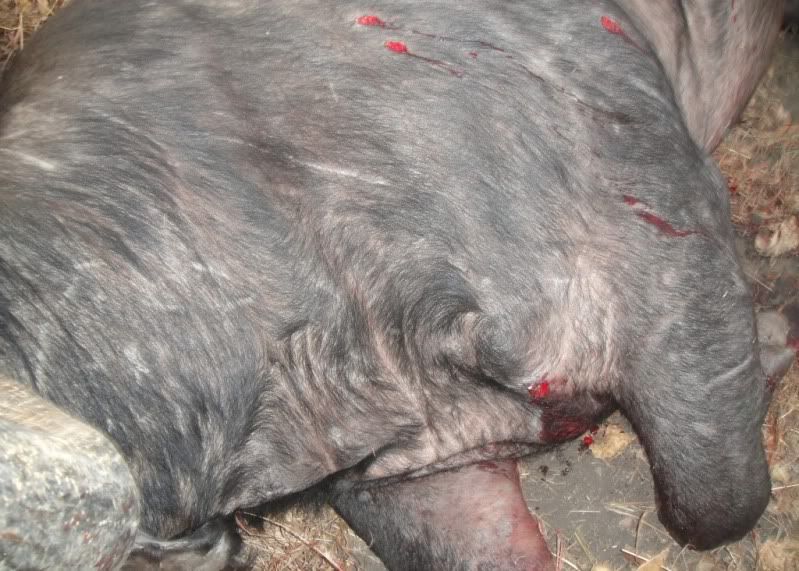 Some of the many holes from my 470.




Not sure who is more proud; Neil and Eric for the fine job they did getting me to the buffalo, Mr. Barrie seeing his son become one of the best PH's around, or yours truly for not screwing up and keeping it together on the follow up.


On Saturday the 11th joy turned in to disappointment. We were walking a dry river bed and came across eland tracks. Katherine wanted to hunt it and we all agreed to do so. After tracking and finding the eland Neil got her in place for a good although slightly difficult shot. They were able to place only one shot in the eland and it was bleeding quite a lot. We tracked the eland for the next seven hours and never saw it again. The blood dried up the terrain made it nearly impossible to track and the sun would be setting soon. We began a long walk out. During this long period we never crossed a single road. Hunting Coutada 9 is like stepping back in time. Katherine was very disappointed as we all were. I explained we all lose animals from time to time and that things would go better next time. I would need to remember that little speech soon enough.


Our plans were to transfer on Sunday but instead decided to stay another day and look for the eland. We walked the same dry river bed looking for eland tracks and spotted a bushbuck. We were able to work our way close enough and I dropped it with one shot through the shoulder. I finally had my Chobe Bushbuck. As we were taking photos Eric our tracker found some eland tracks. We followed them for about five minutes. We decided to return to the bushbuck and carry it back to the cruiser. Neil called the car and it met us in the riverbed. We restocked our water and headed out in search of the eland. After a couple of hours of amazing tracking by Eric and Neil, we found the eland. Neil was not sure if it was the same one from the day before as it was about 85 yards away in thick cover. I made the decision to take the chance and shot it once with the H & H. Immediately we began tracking the blood trail and after about 30 minutes we were beginning to flashback to the previous day. This eland however was now dragging its left front leg. Finally we saw it. We ran forward and I shot it again going over a rise. Another two hundred yards away it was on the ground. I put two more 375 rounds in it and it was over. We were unable to find the bullet hole from the day before and concluded this was a different animal. After another long walk we rested in the river bed waiting for the cruiser. It was necessary to cut a long road back to the eland. We then field dressed and loaded it and traveled back to camp. We ate and rested for a few minutes and went looking for a good oribi in the late afternoon. We found one and I shot it with the 7 by 57 at about 125 yards. It ran off and faced us in some thick brush. I shot and missed. We started tracking it and I got four running shots and hit it three times. The first shot was actually very good. Neil jokingly said it was the toughest oribi he had ever seen.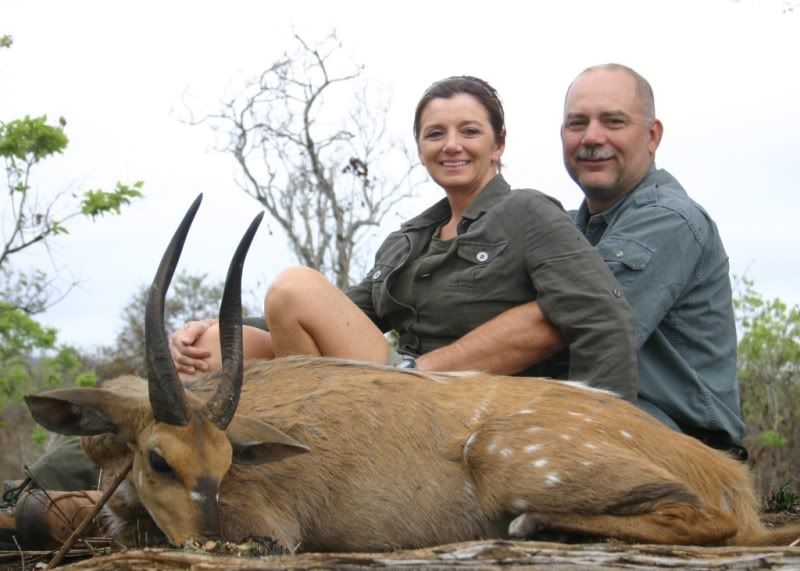 My first bushbuck and a very nice one.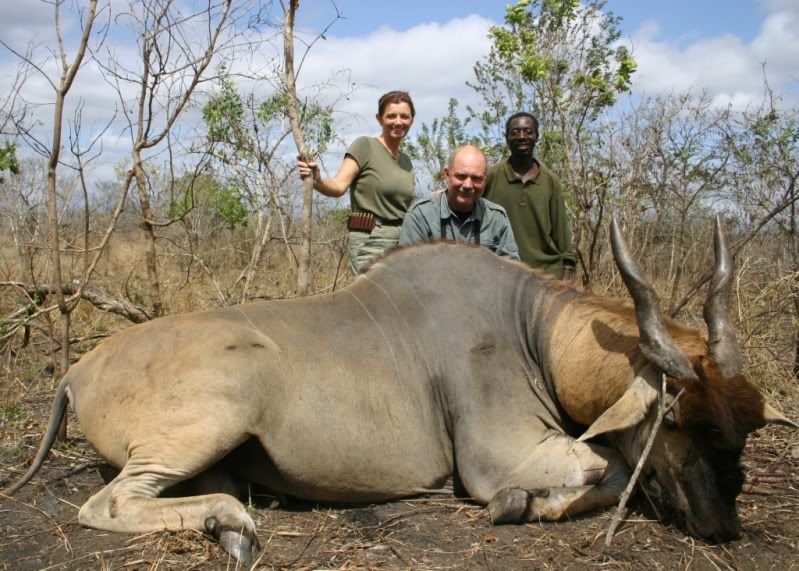 Another first




We covered him well prior to the long walk back to the truck.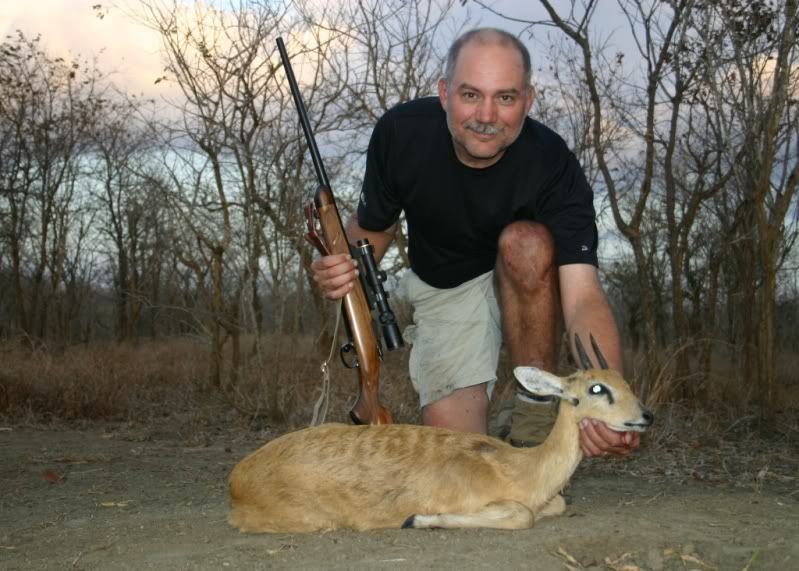 First oribi.

The oribi ended a very good day of hunting. We worked hard for the bushbuck and eland and they were fun hunts. I used the Mauser on the oribi and it being my Father's rifle it was special. He left us when he was far too young. He taught me to hunt and trap, right from wrong, and in general how to be a man. Using his rifle was like having a small part of him with me.

A couple of more photos from Coutada Nine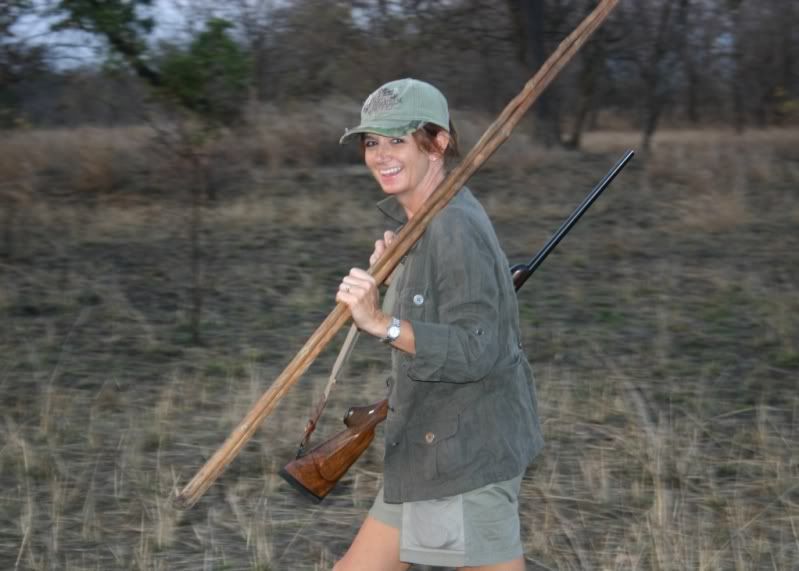 A new African hunter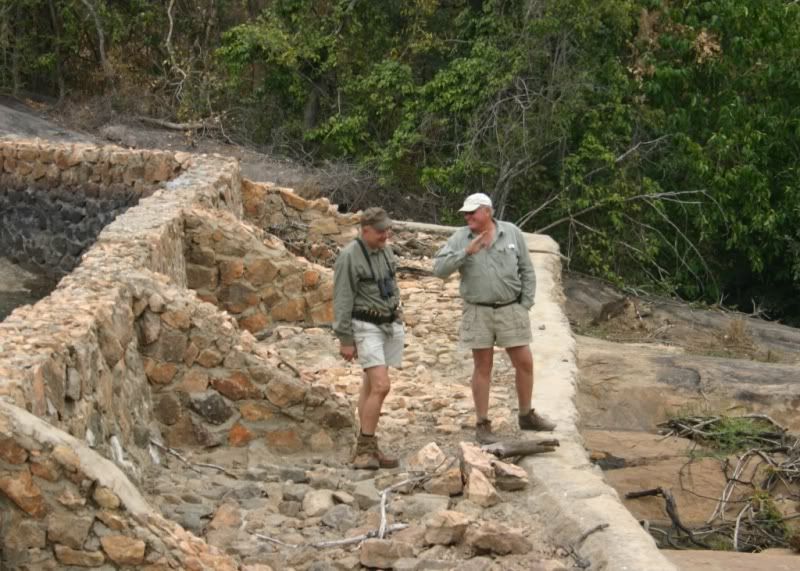 Mr. Barrie and me discussing the evil of softs and the virtues of solids.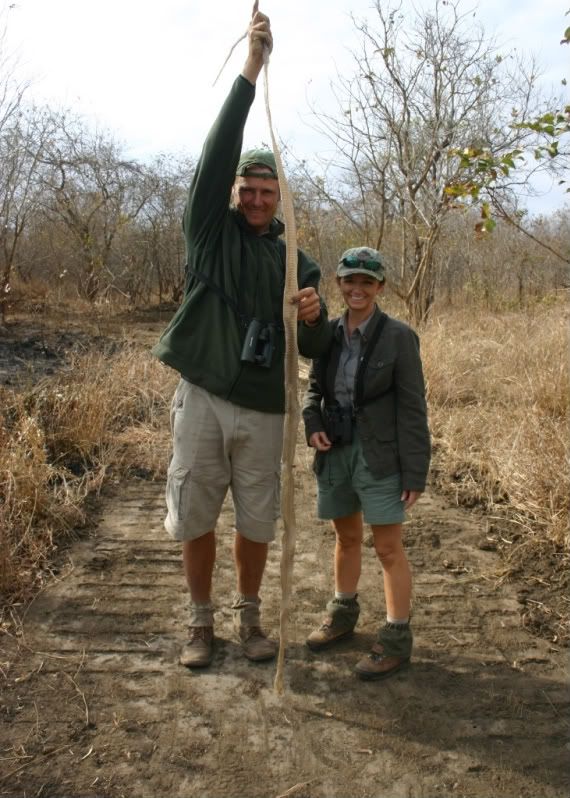 Keep in mind Neil is 6'-6" tall, that was a long snake.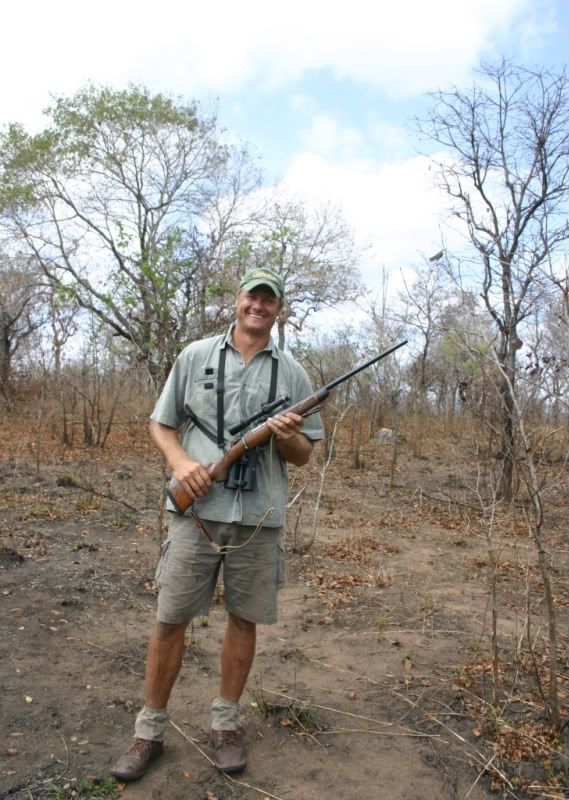 Neil with his new PH rifle or is that Katherine's 7 by 57.

With great sadness we left Coutada 9 on Monday morning and headed to Mokore on the Save Conservancy in Zimbabwe. Coutada 9 is a magical place. For a short period it was stepping back in time. Neil believes they will kill a 62" kudu within the next couple of years and from the number of 55" plus kudu we saw I do believe him.

We quickly settled in at the Mokore camp and went riding to view game on the conservancy. Katherine and I saw our first giraffe in the wild that afternoon.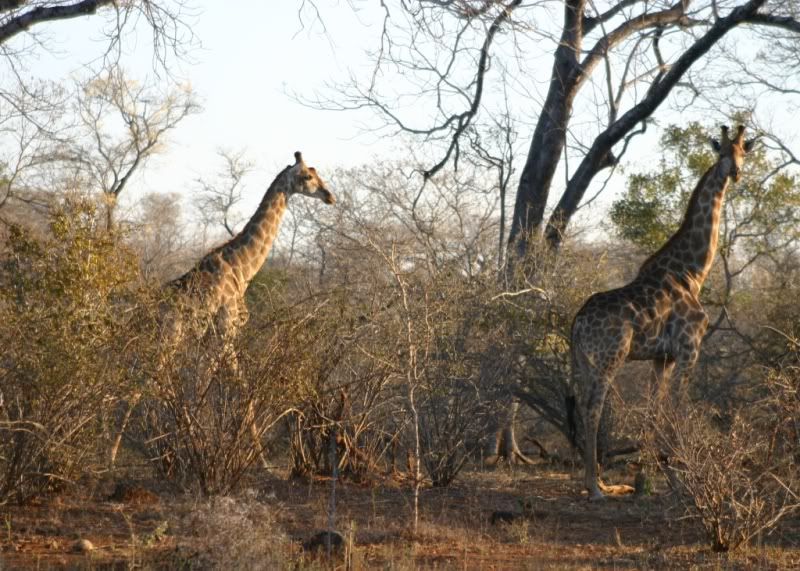 Early on the morning of the 14th we watched our first black rhino. They are a quite interesting animal. Soon we were tracking elephants and located the herd. A tuskless without a calf was spotted and we moved closer. As she stepped from behind a tree she turned and Neil stopped me from shooting. It was the perfect setup but she had a small tusk that we did not see until she turned. We continued hunting and Katherine wanted to shoot a zebra. Her shot was a little low and it ran off after I missed about a 100 yard follow up shot with the double. We found it soon enough it was quickly dispatched. Katherine was very happy.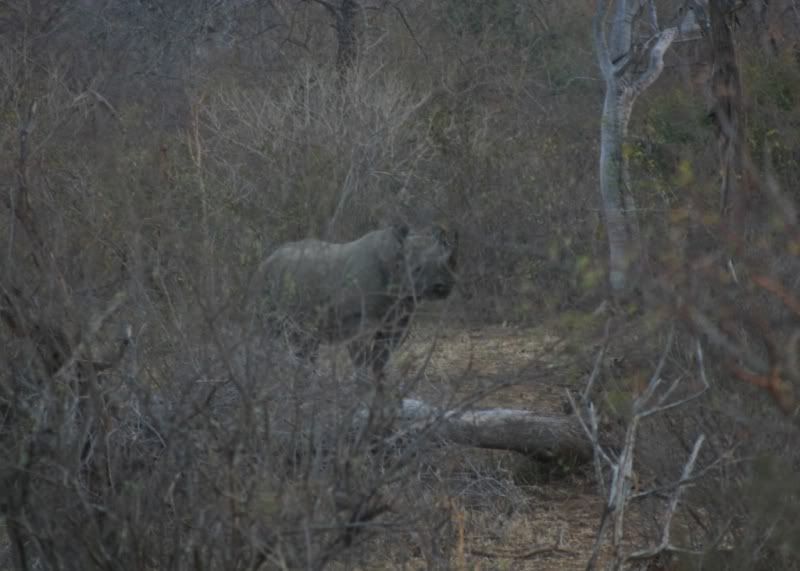 Nice zebra

The following day saw us in and out of elephant herds but unable to find a tuskless without a calf. Neil spotted a very nice wildebeest and I decided to shoot it. After about 45 minutes of following it on foot a placed what I felt was a good shot with the H & H. Immediately I reloaded and tried to place another shot in it but it was kicking up so much dust we could not see it. In the next instant it was gone I tried a running offhand shot but was unsuccessful. A high spine shot was the problem and to make matters worse it was not bleeding. We never found blood other than where it was on the ground. After hours of searching we gave up. I had to remember the speech I gave Katherine a couple of days before about losing animals. It took until the next day to put it behind me.
Over the next several days we hunted elephants we viewed herds every day and interacted closely with them, but were unable to find a tuskless without a calf. Elephants are truly magnificent animals. We viewed the old copper mine on the property and I also was afforded the privilege to fire Mr. Barrie Duckworth's 505 Gibbs. It is a great firearm.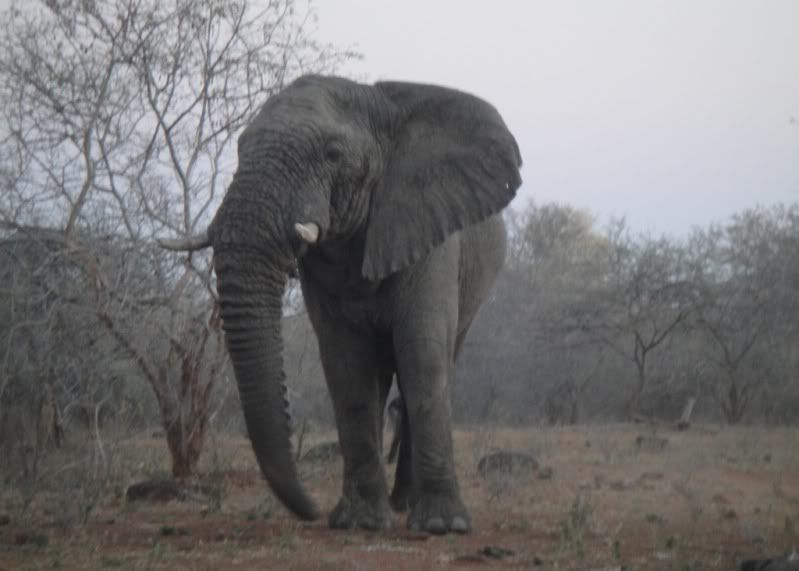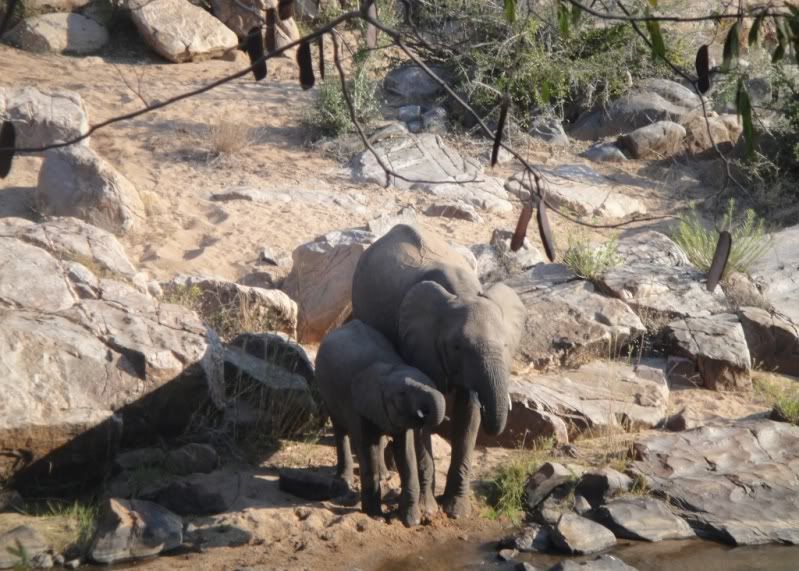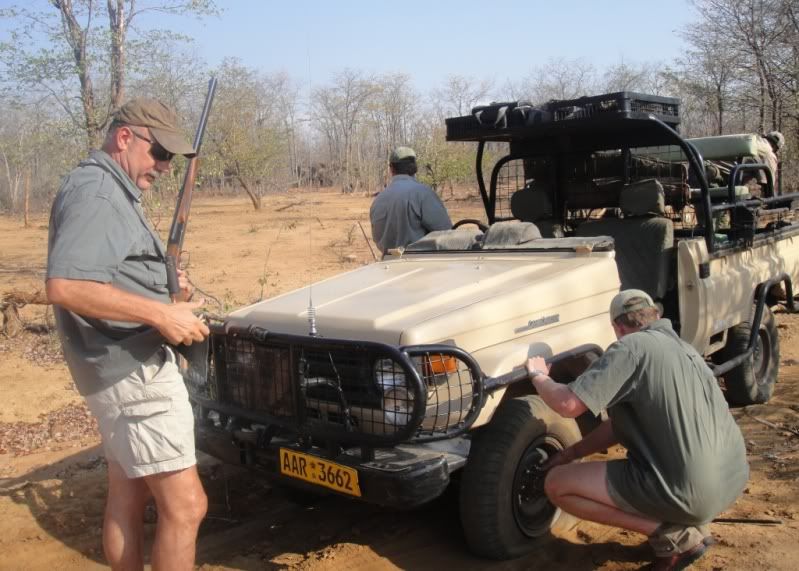 Changing a tire in a bad neighborhood. Elephants on two sides.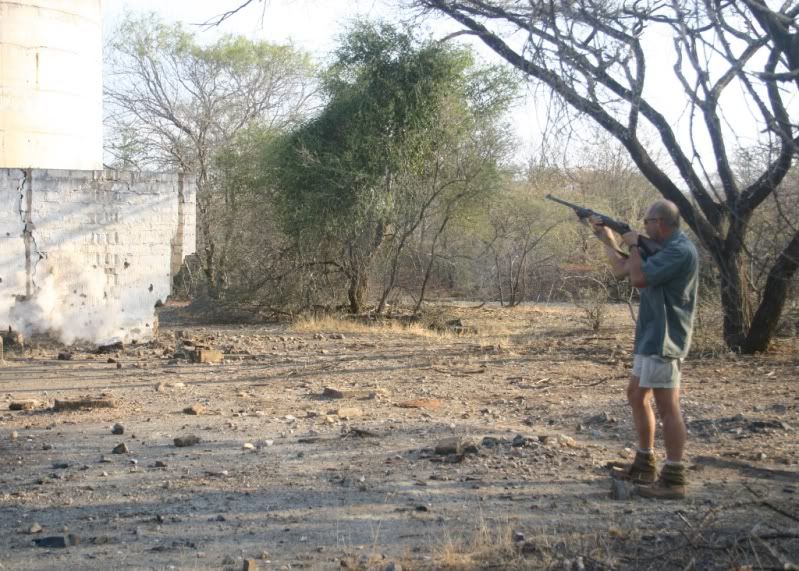 Mr. Barrie's fine Gibbs rifle.


Sunday the 19th saw us looking for elephants. Neil and the trackers were checking tracks of an eland and walked up the bank of a dry river bed. As I followed them they came running out of the bush so without asking a question I ran back to the cruiser. They bumped in to a buffalo bedded down. We went back but it was gone. As we left the area we saw another PH and his client coming out of the bush from the other side of the river. This client was hunting with a 45-70 handgun and had shot it two days earlier. We thought the buffalo was about 5 or 6 kilometers away but it changed directions and turned out to be the one we bumped in to. We were asked if we would help and of course the answer was yes. Unsure of the etiquette I told Neil to let me know when to shoot, his answer was if I saw it to commence firing. After a couple of kilometers we caught up to it and the other PH put a 375 round in it at about 125 yards. It ran off. Neil and I had been in a flanking position and Neil took off running after the buffalo as he could still see it. I followed closely and was able to put two 470 rounds in it. The handgun hunter caught up and put several more in him and it was over. The first shot from two days prior was a well placed shot the travel somewhat diagonally through about three feet of buffalo and the bullet exited. It was another exciting buffalo follow up and the hunter was very pleased.

The next day I told Neil if we could find an old dugga boy I would take it in lieu of the elephant. We found the tracks of an elephant herd and caught up to it late in the evening. Again, no shootable cows. Right at dusk Neil saw a lone buffalo just pass the elephants. We worked our way around and it turned out to be a dugga girl. A lone cow with no others around it.


By Tuesday I was itching to kill something. I spotted a big duiker from the truck but was unable to get a shot. We then crossed a herd of wildebeest and Neil spotted a nice one. A short stalk, a well placed shot, one insurance shot and it was over. The ice was broken. We then found buffalo tracks crossing the road. Neil felt it was better to comeback in the early afternoon. When we returned later we quickly found the buffalo but the stalk was long and difficult due to the wind and the thickness of the area they were feeding. After working our way to within 75 yards I fired one shot with the 375 H&H. I wanted the scoped rifle to make certain I had a clear shot and place the first shot with precision. The buffalo ran off and we started tracking. There was a pretty good blood trail. Thirty minutes in to the follow up I saw him sticking his head out of some brush. Neil could not see him so I used the old PH method and grabbed him by the shirt and pulled him in to place. Douglas Duckworth is an appy and was filming the hunt. He said he never saw a client do that. Anyway, Neil quickly confirmed it was the same buffalo and I put a 500 grain 470 round through him. He ran off again and I tried a raking shot as he crossed a hill. Now he was bleeding much more and we became more confident. We tracked him to the edge of the Turgwe River and stopped to look at the 10 foot tall reeds in the river bottom. We were making a plan when I moved to the side about 10 feet and saw two legs horizontal about 20 feet away. Neil confirmed it and we crept up to a stone dead buffalo. It was probably the most beautiful sight on the whole safari. I double lunged him with the 375 and the North Fork soft did plenty of damage and the 470 with the cup point penetrated completely through him but those buff are just plain tough. Three buffalo follow ups on one safari, all with a good ending. Katherine was on all three follow ups and handled the situations very well.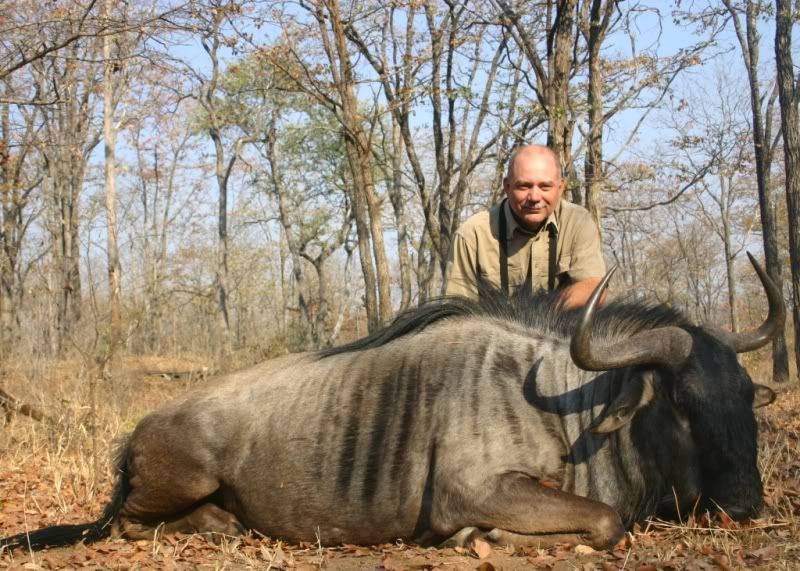 Nice wildebeest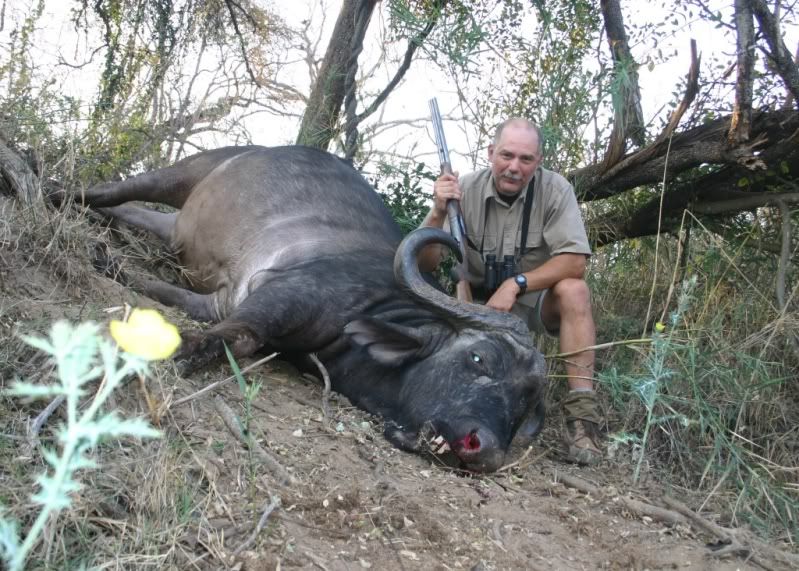 Close call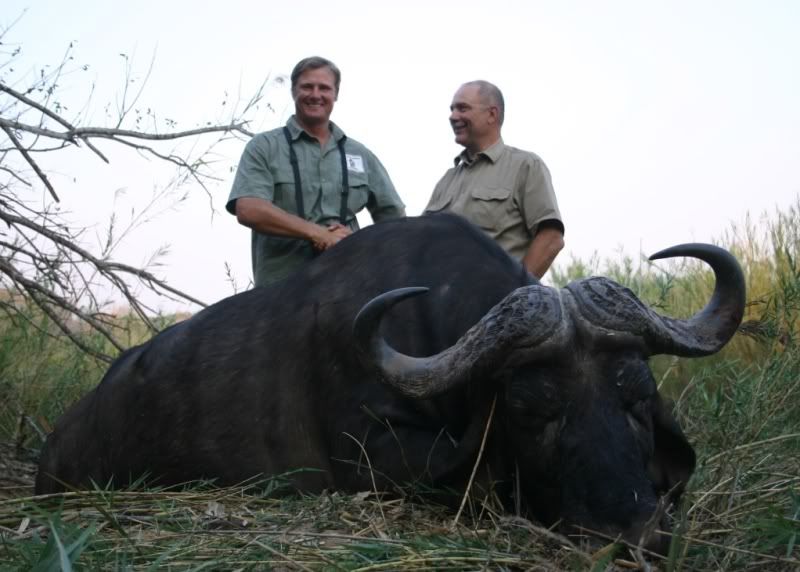 I do not know who was happier about finding the dead buffalo.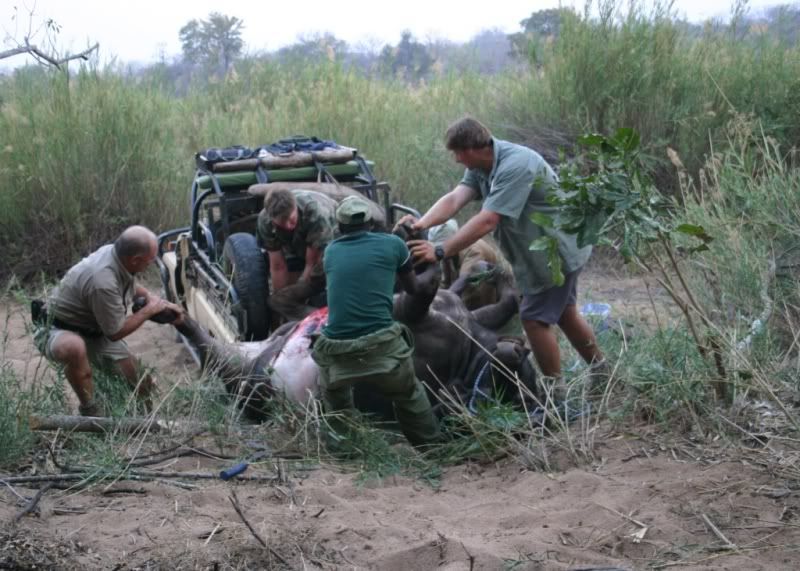 Note the tall grass in the back, it is where we were headed until the buffalo decided to die.


Wednesday was our last day of hunting and we were back on elephant. I came within whisker of shooting a cow and at the last minute we saw the smallest calf I have ever seen with the cow. It pays to be a good mother. The rest of the day was an easy day looking for a kudu or bushbuck. We saw some nice ones but were not successful.

That night we said our goodbyes and toasted an excellent hunt. Neil started another safari the next morning.

Some other photos from Mokore/Save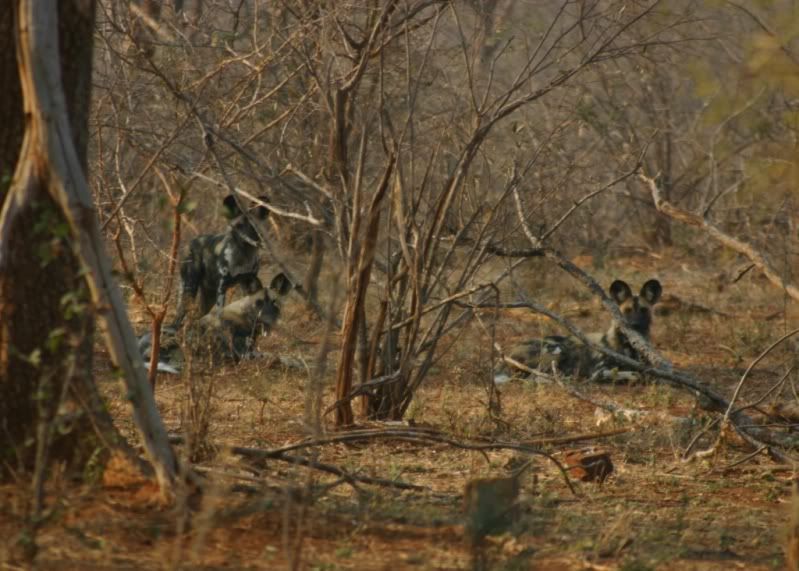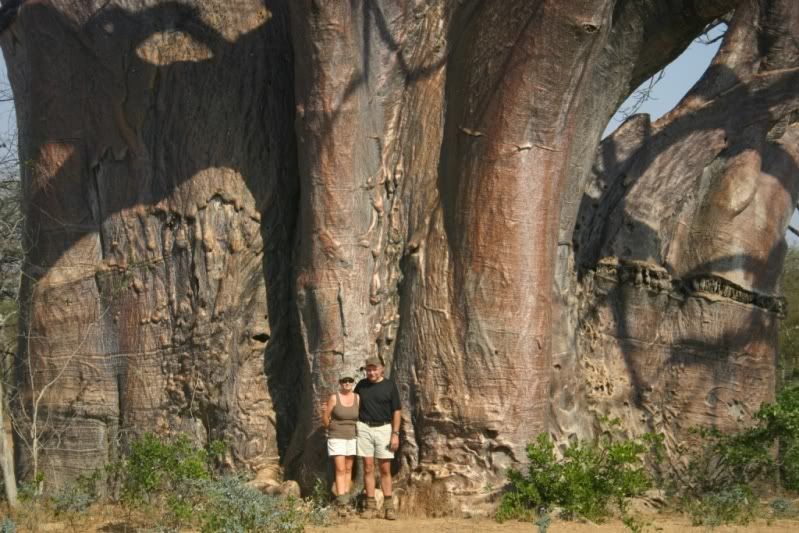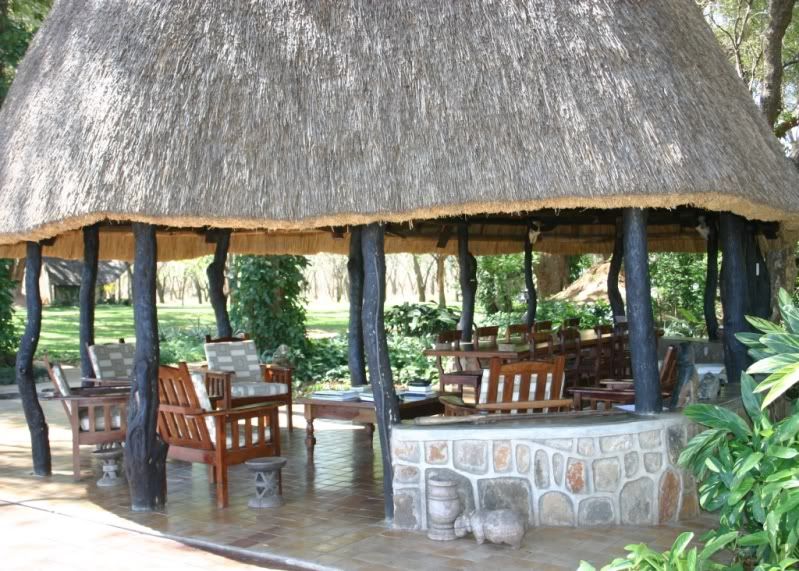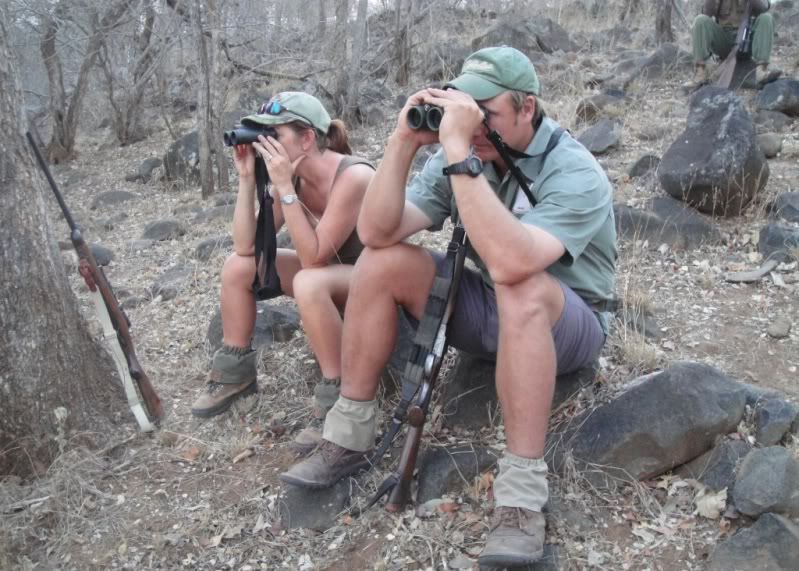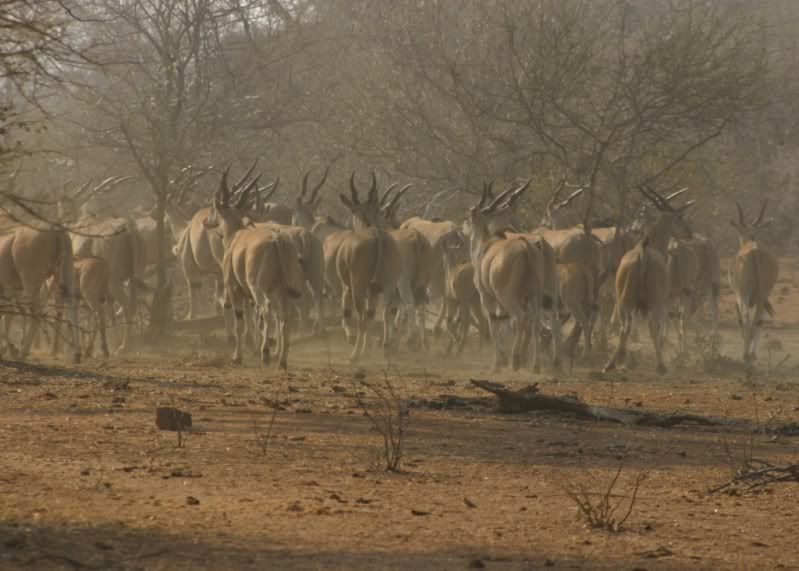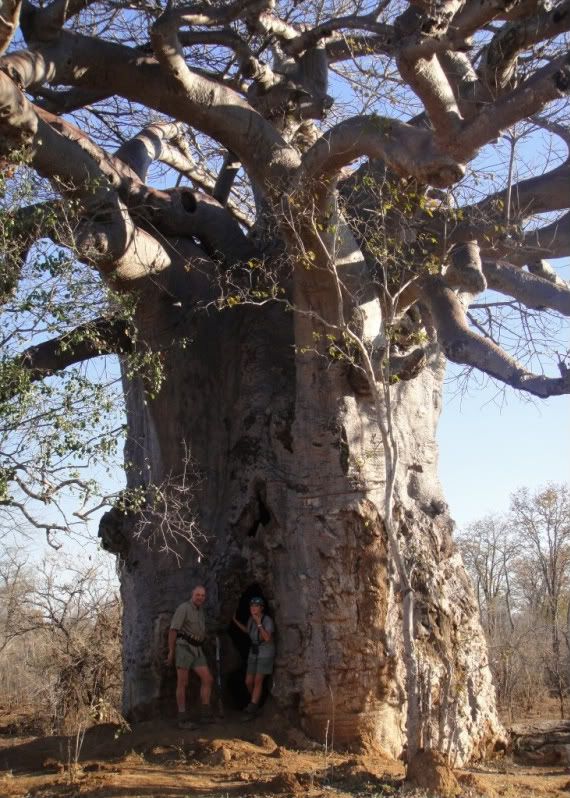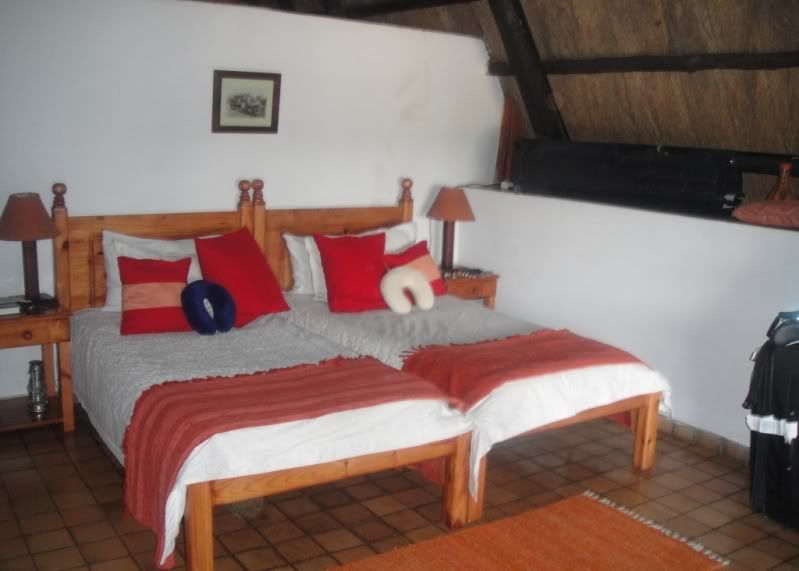 Things I learned on this trip and other notes.
My shooting is at about 80% of where I would like it. With the scoped 375, I tend to shoot too high on most animals even though I know better. With the 470 I need to refine my sight picture a little more and not just shoot in the center of the black on a buffalo broadside shot as several of my follow up shots were too far back. I should take a little more time between the first and second shots with the double and make the second shot count. I did reload the double very fast without fumbling shells and never pulled the front trigger twice. The Krieghoff safety/cocking device was a non issue as I do not even remember pushing it forward, it was as natural as any other safety. My motto became shoot first, shoot fast, shoot often. It does get cold in Zim, both Katherine and I had to borrow a jacket. We were in good shape for this hunt and it helped as there were many miles walked everyday. All of our trophies were very nice and mature and I feel well earned. All the firearms performed flawlessly. I was a little disappointed in not taking the tuskless but we put in the effort and looked at over 250 elephants. The extra buffalo made up for the tuskless. I do love hunting buffalo.

Katherine and I truly enjoyed this safari. Neil Duckworth is the consummate PH. I have been very fortunate as all three of my African safaris have been trips of a lifetime, first in Tanzania with Zayne van der Merwe who coincidentally is very good friends with Neil, the second hunt with Martin Pieters in the Omay, and now this hunt with Neil and Mokore Safaris. We cannot wait to see what next year holds in store.
Africa 2009
As I begin to write this report in the Harare airport I am sad as I am now leaving Zimbabwe. This trip was my first to Zimbabwe but will certainly not be my last.

I had no plans to hunt in Africa this year until I started seeing some pretty good deals being offered. Several people I correspond with certainly enjoyed their hunt with Martin Pieters so I decided to book a tuskless cow and a buffalo cow hunt for seven days. A while back there was a thread on Accurate Reloading about what you would do different if you started hunting in Africa again. A common theme was less taxidermy and more hunting. This trip had zero cost for pack and dip, transportation, taxidermy.

The only rifle I brought was my Krieghoff .470 Nitro double rifle. All ammo was handloaded by me with Woodliegh solids and softs. Everything from brass to bullets was weighed and measured with the utmost care. All loaded rounds were checked in each chamber of the double. Muzzle velocity was 2100 FPS.

Travel arrangements were handled by Shawn at Gracy Travel. I used SAA and the trip was uneventful. In the course of my travel to Bulawayo I met two other AR members one whom I sold some 416 ammo and another I had met at the AR dinner at DSC.I overnighted at Africa Sky in Joberg and then continued to Bulawayo where I was met by Martin Pieters. We proceeded to his home. Martin has a wonderful family and they were very kind to me.

The next morning we began the drive to Omay North. It took about eight hours but the time passed very quickly. Martin is very passionate about the efforts he is putting forth to make the Omay even better. We discussed everything from anti poaching activities to management of the lion population, to working with the council in the CAMPFIRE area. I took an instant liking to Martin.

We arrived at the Ume camp where I met Dalton who is an "appy" and Steven our tracker. We organized a hunting vehicle and proceeded to Tiger Bay which is an old fishing resort. The accommodations were very nice and well staffed. The first evening in camp we took a boat ride and viewed the game in the area including elephants, hippos, crocs, and impalas. My chalet faced the water and that night it sounded like the hippo were at my feet.

We began our hunt the next morning at daybreak. We soon found elephant tracks crossing the road and the hunt was on in the jess. This stuff is thick with no leaves and I cannot imagine it early in the season when it is completely green. While tracking the elephants we came across some buffalo. Although there were some shootable cows they offered no good shots and eventually ran off after winding us. We continued tracking the elephant. Steven is an amazing tracker. We caught up with the herd but there were no tuskless. The matriarch put on a mock charge and stopped at about 15 yards. The close interaction with the herd help put me at ease. We located some more tracks and eventually caught up to the herd. We found two tuskless in the herd but they both had calves. After a break for lunch we drove to another area and looked for tracks crossing the road. Unable to locate any we set out on foot to look for elephant near some springs. We were unsuccessful and that walk brought an end to the day.

The next morning we discovered we had visitors in the camp during the night. A hippo relieved itself about 20 ft from my chalet. No wonder they sounded so close. There were also elephant and buffalo tracks in the camp from the previous night. That green grass was hard for them to resist. We re-entered the jess and tracked another herd with no tuskless. I took some pictures at about 50 feet. I can barely make out the elephant in the pictures. Did I say this stuff is thick? We then moved to another area and started tracking another herd. We found a tuskless with no calf in a herd of about twelve elephants. We worked our way within 20 yards and that was as close as we could get. We stood there and watched the elephants and I began to become nervous. Then I thought this is the pinnacle of hunting and I am participating. A big smile appeared on my face as I raised my Krieghoff. If I live to be a hundred I will never forget the sight picture as I squeezed the trigger. The 470 Nitro roared and the elephant was gone. It dropped like someone chopped its legs out from underneath it. I then placed a follow up shot in its head, quickly reloaded fired two in its chest, quickly reloaded and fired one more in the chest. At that point the other elephants decided they wanted us dead. We quickly retreated as I reloaded again. The matriarch charged us and did not stop until Martin fired a warning shot. This occurred at about 10 feet. She looked at us and we at her and both decided to put a little distance between us. It was a little on the exciting side. We were then able to move about a hundred yards away and let things settle down. After the elephant decided to leave we worked our way back to the elephant. Even though she did not take a step SHE WAS STANDING! I worked my way within about five yards and brained her and put one more in her spine while she was down. We cut the tail and she was now mine. After it was over I had a strange feeling, not of remorse or guilt but maybe humbled a little by the experience. I was not ashamed but had no desire to sit on her for hero pictures. Do not misunderstand, I was excited and proud but in a reserved sort of way. We walked to the vehicle and drove to a nearby village. After collecting a group of skinners we headed back to the elephant. The salvaging of the meat was unbelievable. Axes and knives flying everywhere with lots of excitement. Nothing and I mean nothing went to waste. That huge animal was hauled out in five gallon buckets.

The next morning we were on buffalo. We found tracks and after a short stalk we were on the herd. We just could not get close enough for a clear shot. I believe I mentioned the jess is thick. They ended up moving off and we started tracking another group. After crawling around on our butts for quite a while we located this group. These turned out to be dugga boys, and off course I was looking for a cow. We worked our way out and knew there was a herd nearby. All of a sudden we heard a buffalo coming in from the other direction. As it neared we saw it was a cow. It crossed a narrow opening and I fired from a seated position and was only able to shoot once even with the double. I jumped up and immediately reloaded. Martin said it looked to be a good shot. We walked the twenty-five yards to where I shot it and found bright red blood. We started tracking it and found it after a short distance. I put two more in it and it still ran off. These buffalo need to read AR and learn that 5000 ft/lbs should knock them on their butts. We tracked it a little further and found it facing us, slightly quartering. I put one more in the breadbasket and dropped it. Another shot in the head for insurance and it was over. I really appreciated Martin allowing me to shoot it out with the buffalo on the follow up and he fired no backup shots. After it was over Dalton told me that more than likely the buffalo was about to charge when I dropped it. That would have been interesting at 15 yards. We picked up some guys from the village and within two hours it was nothing but a bloody spot on the ground.

Now I had five more days in the camp and hunting was over. That was no problem. We moved to the Ume camp and I had what I felt was the best chalet in camp with the best view. For the next week (Martin actually let me stay two additional days after my five days were over) I ran around with Dalton. It was like being at my camp in Louisiana. We fished, checked hyena baits, made grocery runs to the other camp, went on another elephant recovery, viewed game, visited the local schools, and generally just enjoyed camp life. It was great. The other hunters in camp invited me to go hunting with them but I did not want to take a chance of messing up their hunt even though it was a very kind gesture. The last couple of days were spent at the Mackenzie Camp. The other hunters, PHs, and camp staff were all great.

I flew back to Harare and was able to visit with a classmate of mine from Louisiana. She has lived there since 1985 after marrying a Zim farmer in college.

Other notes:

Hunting with my double was great. Iron sights, no shooting sticks, and firing all the follow up shots really helped make the hunt. I have been a proponent of using single shot rifles, but in those conditions I would not recommend it especially on the elephant. I did have two mistakes with the double. I pulled the front trigger twice on my first volley on the elephant. I never did it while practicing nor again during the hunt. Also I shot the buffalo with the left barrel first (solid), I do not know how I did it other than not practicing enough from the sitting position.

Elephants are tough. I thought the side brain shot was good and I put three in her chest, one of which also broke a leg. (she was on her side with her legs facing towards me) But she was still able to stand or maybe was helped up by the others. I have a picture of the side brain shots. The rear one was the first one. The Woodleigh solids that were recovered looked as though they could be reloaded and shot again.

I will never plan another trip without my wife. There were so many times something happened and I thought about how excited she would be.

Zimbabwe seems to be recovering. Stores are stocked and fuel is available. I even walked several blocks in Harare by myself to eat and have my haircut with no fear.

Martin runs a very good operation. I kept thinking he had me confused with someone else. It seemed everything was above and beyond what I expected. The only downfall was Martin came down with malaria after the buffalo hunt and it cut our time short, but Dalton was there to take care of me.






Africa 2008
My quest for an African adventure began many years ago. It began with reading Peter Hathaway Capstick and Robert Ruark's books about Africa. Harry Selby, the Professional Hunter of Ruark's books, became a legend. Selby began his career hunting in Kenya and Tanganyika (now Tanzania). This was one of the reasons I chose Tanzania for my first safari. We are hunting the "The Selous". It is one of the last true remote areas of Africa. It is my hope we feel like Robert and Virginia Ruark on their safaris.
 
Preparation for Cape Buffalo Hunt

The first leg of the journey was to attend the safari club International convention in Reno, Nevada. there we met our outfitter and Professional Hunter (PH). We then booked the hunt.

Preparation for the hunt was enjoyable. I read as much as I could about Africa. The website Accurate reloading was indispensable. I practiced shooting almost every weekend knowing the success of the hunt and possibly our safety depended on making good shots.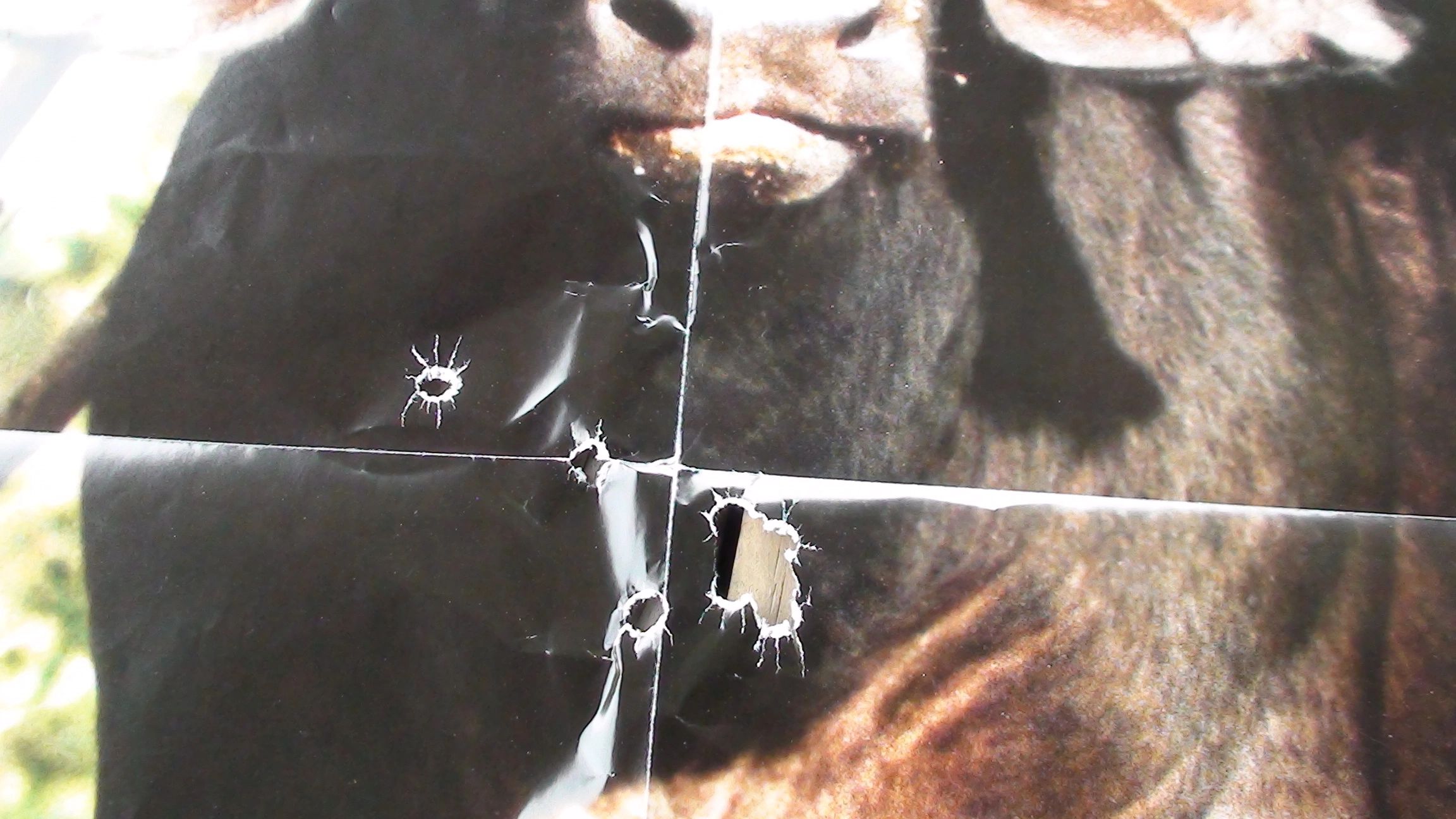 Front and back of target at 25 yards rapid fire with a 416 Remington Magnum
The Hunt

Safari dates: 9/20-9/29 2008
Booking: Adam Clements Safari Trackers
Travel: Shawn at Gracy Travel
PH: Zayne Van de Merwe
Area: Tanzania, Selous LU5 Concession
Rifles: Ruger No. 1 in .416 Remington Magnum with 400 Grain TSX Handloads and 400 Grain Banded Solids, Winchester Model 70 in .338 Winchester Magnum with Factory Federal loads with Barnes TSX
Animals hunted and taken: Cape buffalo (Two), Hartebeest, Zebra, Wildebeest, Warthog, Impala
Animals hunted and not taken: None
Animals seen but not hunted: Elephant, Lion, Baboon, Hippo, Kudu, Eland, Waterbuck, mongoose, honey badger, several smaller antelopes (Duiker and bushbuck if my memory is correct)
Every aspect of our first safari was perfect. Every plane connection was on time, no lost luggage, we breezed through customs, the Caravan plane was in excellent shape, three hunting vehicles in camp all in excellent shape, good food, excellent camp and staff, plenty of game, and Zayne is one hell of a PH. I probably could have booked a little cheaper and cut some corners but the extra dollars I spent for a quality trip were more than worth the money.
We arrived in DAR at 10:30 PM on September 18th. Donald was there to meet us. We went through customs in just a few minutes. He sped us off to the Sea Cliff where we met a couple from South Dakota leaving for a 28 day trip in the Selous. The next morning Donald collected Katherine and me and brought us to the airport for our charter flight. We met Zayne at the airport and left for the Selous. We arrived in camp and settled in. That afternoon I checked zeros on my rifles and we were ready to begin hunting. At this point I was very excited and a little nervous. I practiced shooting nearly every weekend for months and have hunted all my life but was not sure what it would be like facing a cape buffalo.
Day one of the hunt.
We drove and scouted, tracked some buffalo on foot and saw plenty of game, but no buffalo.
Day two of the hunt
We were hunting dugga boys and Zayne and his tracker Brown found some tracks early in the morning. After a short stalk we saw the bulls but could not get a shot in the long grass. We continued moving and finally found a shooting lane. I only saw one bull and Zayne told me to shoot him. I fired one shot at about 70 yards and quickly reloaded and we were on the run. We cleared the long grass to see the bull fall. We looked for the others but they were gone. I "paid the insurance" and put two more rounds in him. My first shot went through the top of the heart. It was the perfect trophy, exactly what I was looking to kill.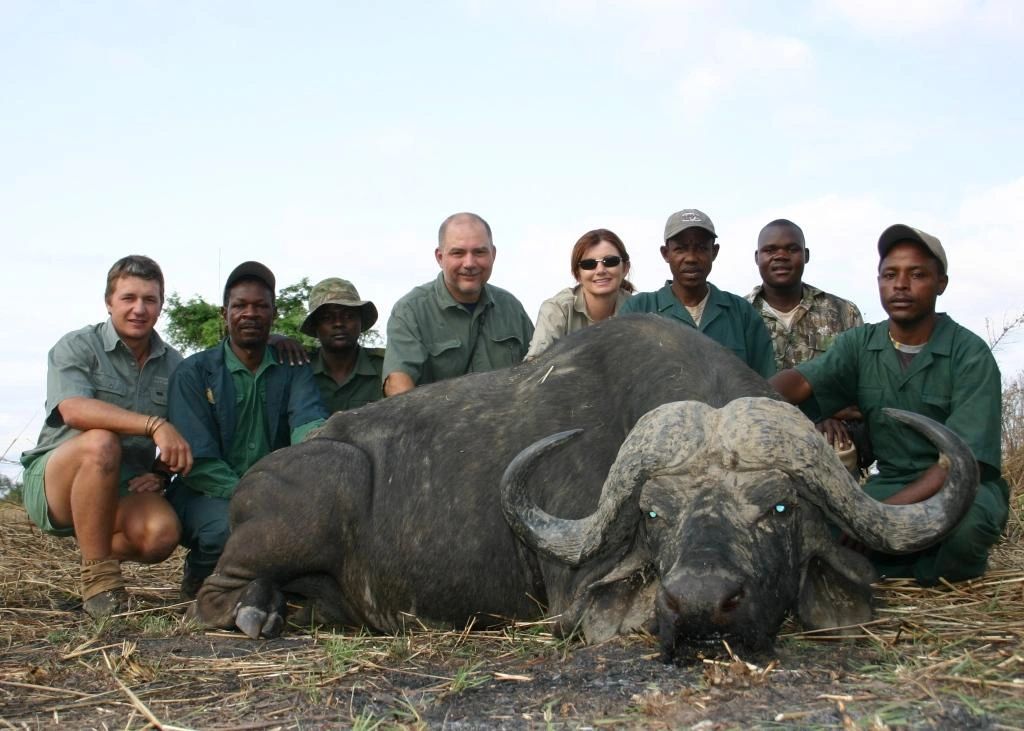 We went back to camp and unloaded the bull. After lunch we headed back to start looking for some plainsgame. As luck would have it we saw a herd of buffalo. We crept in close and took a good look and saw none worth shooting. After they passed we repositioned ourselves to take another look. This time we saw a nice one. After closing in to about 60 yards I was finally able to take a clear shot. When I fired pandemonium broke out. Nearly two hundred buffalo were running and I did what I said I would not do. I became a spectator. Zayne yelled at me to reload and I snapped back to reality after muttering a few choice words. Luckily the bull only ran about 30 yards and fell over dead. He was shot right above the heart through some major plumbing. The trophy size was not as big as the first bull, but I love the teardrops and the actual hunt was something to remember.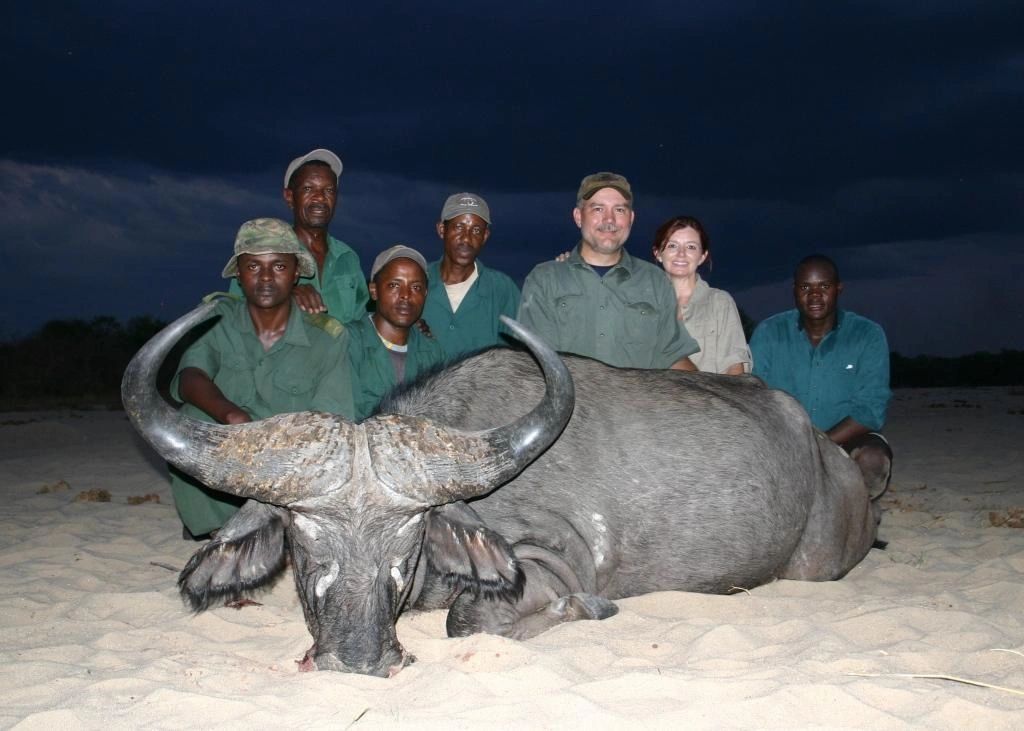 Day three of the hunt
We went back to hunting plainsgame. Our quarry was hartebeest. We spotted three bulls across on open area at about 350 yards. I missed my first two shots and then braced myself better on a tree. The next shot went through his spine as he was moving away up a hill and he dropped in his tracks. After checking the distance with my GPS we discovered the shot was 360 yards.
Day four of the hunt
I cleanly missed an impala at 100 yards to start the day. I was not upset with myself and knew it could easily happen. Zayne suggested we hunt zebra and a couple of hours later some magically appeared. I took a nice zebra, while not that large he was old and we love the pattern and the distinctive black and white stripes.
After lunch at the camp I was relaxing in my tent. I heard some cracking noises then one of the camp staff began screaming. The dining hut was on fire. It started with the propane refrigerator. We started a bucket brigade and had a pump but the building was a loss. Fortunately the fire did not spread. The staff was really impressed with my wife's fire fighting capabilities. The fire is one of those things that can happen. What impressed us was the staff's ability to rebuild quickly and with the amount of supplies in the camp we were short nothing. It is nice dealing with a quality company. We went wading in the river afterwards, glad the crocs did not eat us.
Day 5 of the hunt
Zayne suggested wildebeest for the day. We went to a different area and there they were. We tracked a herd for several hours and the wind changed and we lost them. A little while later we saw a small group. We were able to get within 125 yards and I dropped a nice bull with my .416.
Day 6 of the hunt
We saw a small pride of lions near the camp and were able to film them. We tried warthog for the day. We saw plenty but nothing worth shooting. We did see a nice impala. I missed again. The impala is now my nemesis. I was actually a little angry at myself for missing but got over it pretty quick.
Day seven of the hunt
Warthog day. Finally saw a decent warthog. Made a good clean shot from a prone position at about 100 yards with the 416. Dropped him in his tracks.
Day eight of the hunt
My nemesis the impala is all that is left on the menu. We see a very nice ram, but do not get a shot. For some reason Zayne was aggravated at himself about the stalk, I am not sure why, and he decided that impala would die. We chased him on foot for quite a while but could not get close and lost him over a hill. I was so out of breath I probably could not have shot anyway, Zayne did not even break a sweat. The truck picked us up and we made up some ground. We started looking for him again on foot and found him. We got within 60 yards and I nailed him with the 416. Our nemesis was now dead. He turned out to be a very nice impala.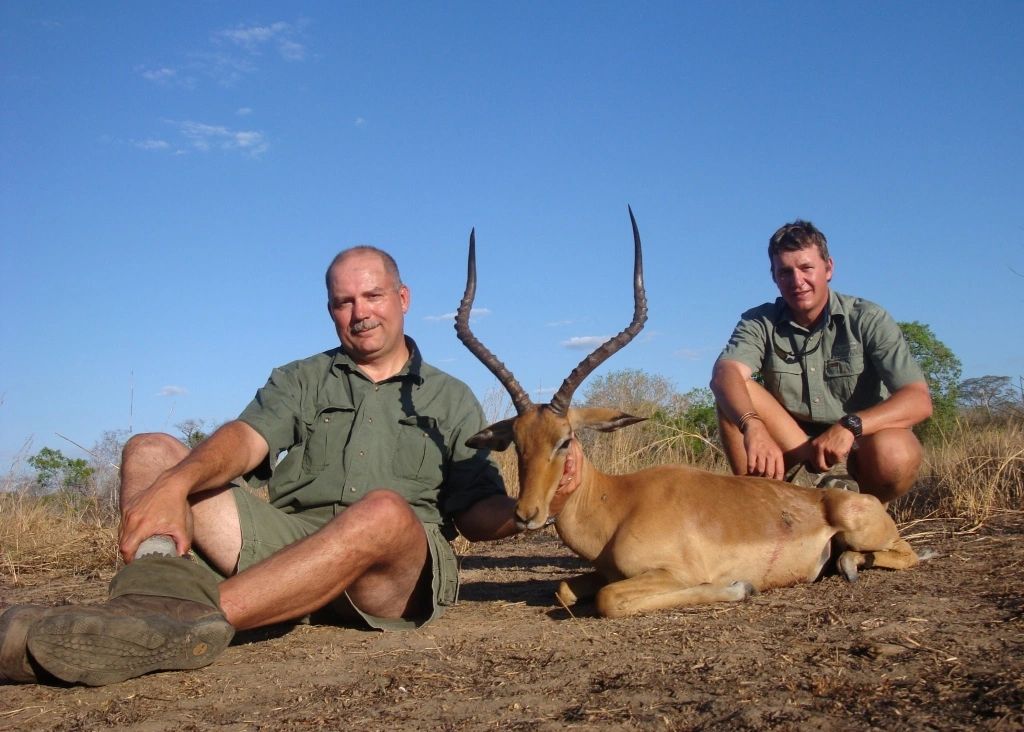 Days nine and ten
We went out in the morning and evening to photograph game. We took pictures of a crocodile on top of a pod of hippos. It was not a happy place for the croc. We also chased a herd of buffalo on foot and got some great photos and video. Zayne really went the extra mile to make those two non hunting days exciting. We also had the staff shooting match. They really enjoyed it and my wife competed with them. Zayne let me shoot his 500 Nitro. That rifle has some horsepower. Zayne and I even had a speed shooting contest. He beat me, double versus single shot but I think I surprised him a little with my trusty No. 1.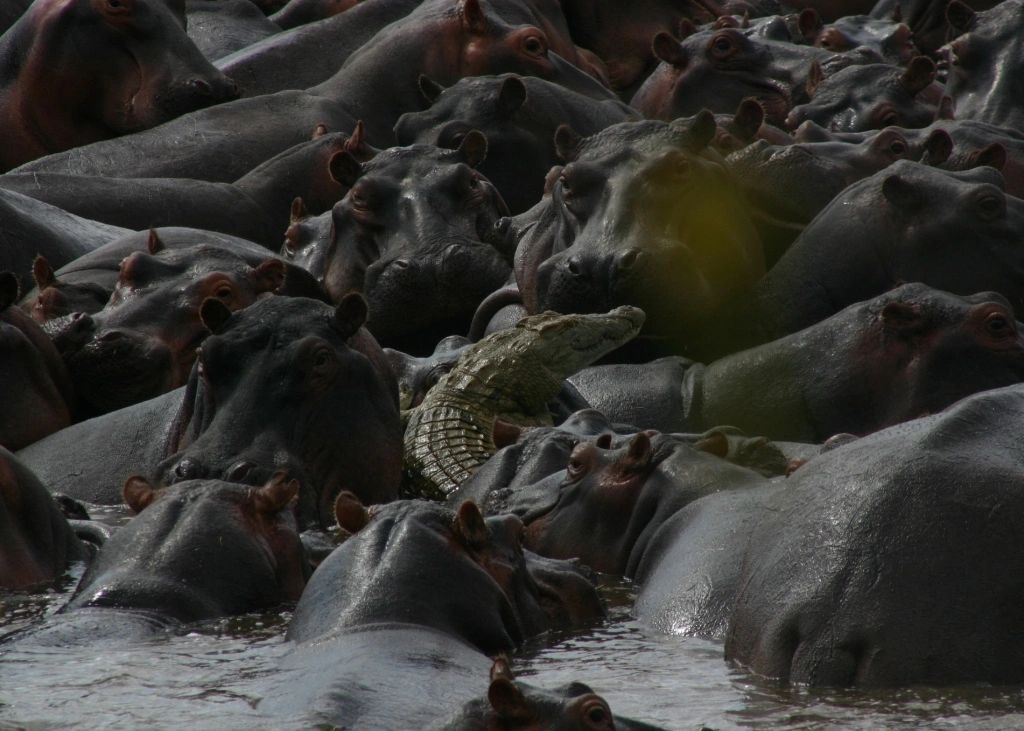 As I said before it was a perfect trip. We hunted hard, but did not have to kill ourselves trying to collect our animals. Shooting the two buffalo on the second day really took off the pressure. We were really able to enjoy the hunt. Zayne is a great PH.
One interesting thing happened in Houston on the way home. We had a KLM rep walk us all the way through customs with the rifles and stayed with us until they were checked in on the Continental flight to Lafayette. She was a big help.
It was very special to have Katherine join me for the trip. It would not have been the same without her.

I want to hunt elephant in 2010 but may not be able to wait that long.